Easter, along with many other holidays, is a time where family comes and gathers over a well-cooked meal. Creating a holiday menu or setting up a plan for what will be available for your guests is very important. This creates organization for the one preparing the meal, but also helps your guests know what to expect. We've gathered several traditional dishes that will be a success with your guests and could be used for this upcoming Easter's meal. You cannot go wrong with these timeless dishes as they can always be customized to your guest's liking.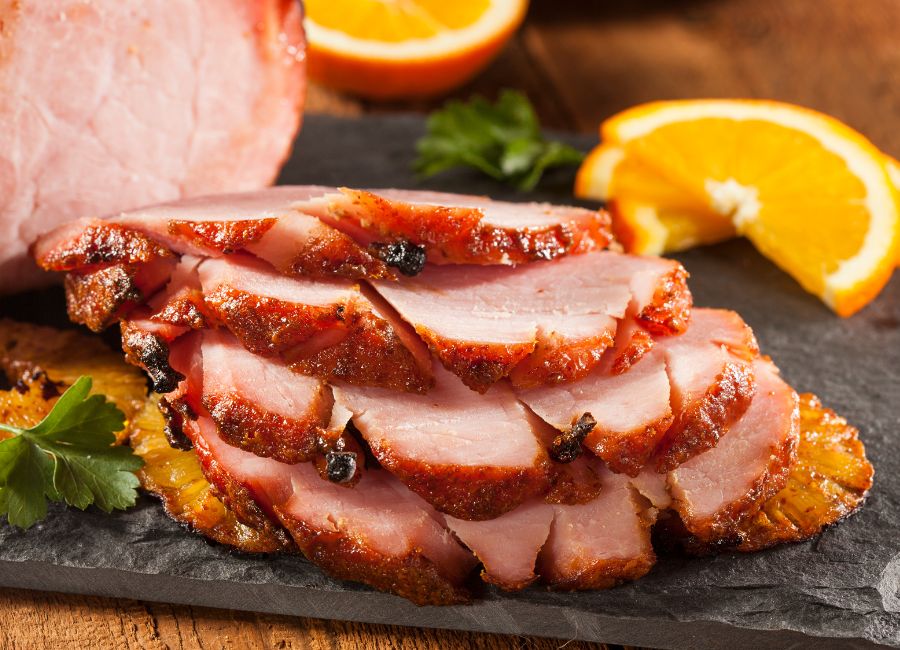 Honey Baked Ham
Ingredients
1

8-10 pound

fully cooked ham

bone-in, spiral sliced - SGC# 214096

1

cup

honey - SGC# 122036

1/2

cup

brown sugar - SGC# 051964

5

tablespoons

butter - SGC# 054130

2

tablespoons

spicy brown mustard - SGC# 125985

1

teaspoon

cinnamon - SGC# 171521

1

teaspoon Restaurant Marketplace nutmeg - SGC# 191595

1

teaspoon

Restaurant Marketplace ground cloves - SGC# 170142

1

teaspoon

paprika - SGC# 170811
Instructions
Preheat oven to 200 degrees. Place ham in a roasting pan lined with foil or roasting pan liner (see tips above). Set aside.

In a small saucepan, combine honey, brown sugar, butter, brown mustard, cinnamon, nutmeg, cloves, and paprika. Heat over medium-low heat until sugar is just dissolved (you do not need to bring it to a boil).

Baste ham with about ⅓ of the honey mixture. Be sure to get in between all the slices.

Cover and bake at 200-degrees for 5 hours, basting a second time halfway through using half of the remaining honey mixture. Check the temperature often. When the ham reaches 140-degrees F, it is ready.

Remove ham from oven and set oven to "broil". While oven is getting to temperature, baste ham one last time using remaining mixture. Be sure to get a nice even coating over the top.

Place ham, uncovered, back in the oven. Watch it closely! When the glaze starts to caramelize and bubble up, remove ham from oven. Allow ham to rest for 5 minutes and serve!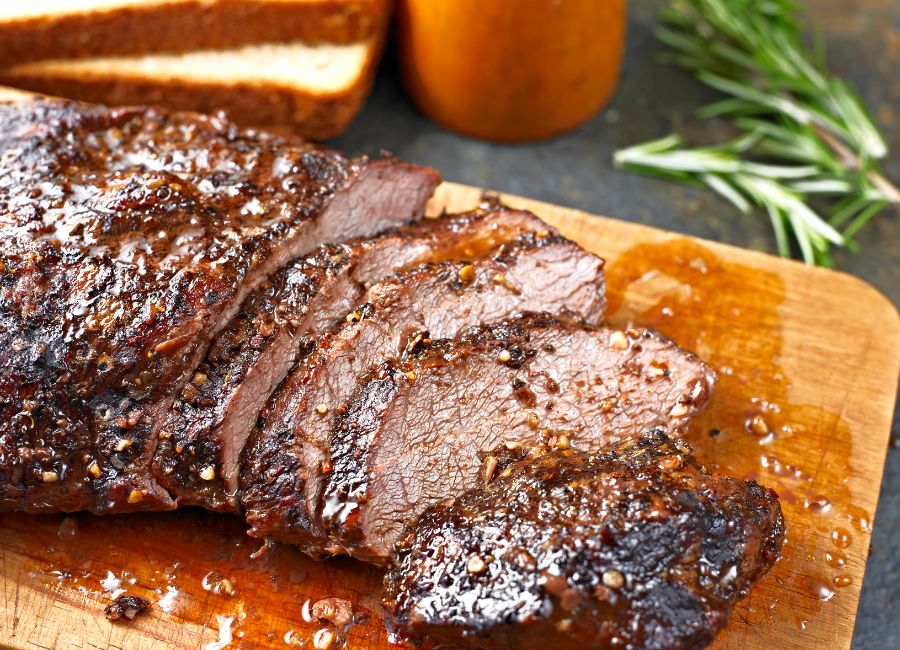 Oven Roast Beef
Ingredients
3

pounds

rump roast

- SGC# 200799
kosher salt

to taste - SGC# 052100

2

tablespoons

butter - SGC# 054130

1

(2-ounce) package

dry onion soup mix - SGC# 100925

1

cup

beef broth

(or beef stock) - SGC# 090472
Instructions
Remove roast from refrigerator and allow to come to room-temperature (about 30-40 minutes). Preheat oven to 300 degrees. Trim excess fat from roast and generously rub all sides with Kosher salt.

In a heavy roasting pan or Dutch oven, over medium-high heat, melt butter. Add roast to pan and sear on all sides for about one minute per side. You want the roast to be brown all over.

Sprinkle onion soup mix over the roast and pour beef broth over the top and around the inside of the roasting pan.

Cover and roast in the oven for 3 hours or until beef is fall-apart tender (add 40-60 minutes per pound over 3 pounds).

Allow roast beef to rest 10-15 minutes, still covered or wrapped in foil, before carving. While the roast rests, make gravy (optional, see notes above). Use a sharp knife to cut into slices and serve!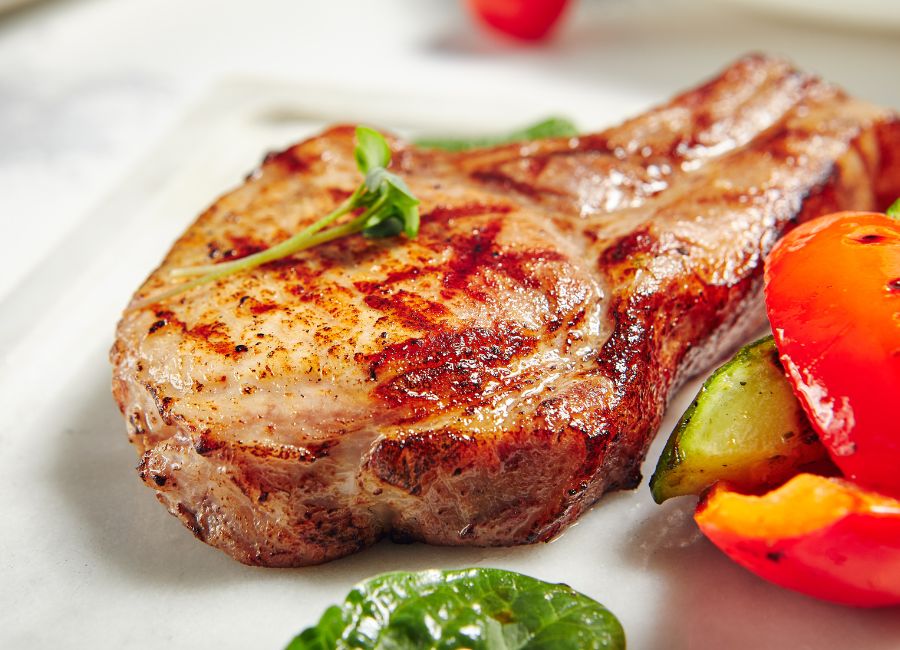 Crock Pot Pork Chops
Ingredients
8 Mill Street pork chops thinly sliced - SGC# 215242

1 envelope Hidden Valley Ranch Dressing Mix - SGC# 123869

10.5 ounces condensed cream of chicken soup - SGC# 090621

10.5 ounces condensed cream of mushroom soup - SGC# 090142
Instructions
Spray slow cooker with cooking spray. Place pork chops in the slow cooker.

Sprinkle ranch dressing powder evenly over the pork chops (front and back).

Combine soups in a bowl and stir. Pour evenly over pork chops. Cook on low heat for 6-8 hours (or high heat for about 3-4 hours).

Remove pork chops and use the gravy to pour over a side of mashed potatoes, rice, or egg noodles.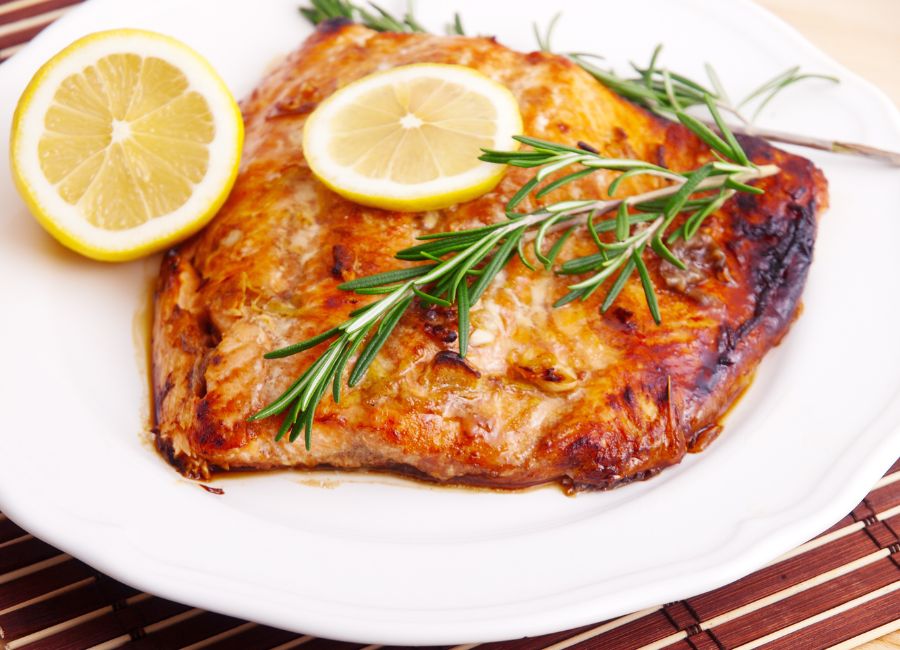 Baked Salmon with Lemon
Ingredients
4

6 oz.

Great American Coho salmon fillets - SGC# 488119

2

Tbsp

olive oil - SGC# 065312

Zest of 1

lemon - SGC# 192676

2

Tbsp

lemon juice - SGC# 192674
Salt and pepper

to taste - SGC# 052100; 169540
For the Tzatziki sauce
1 c Greek yogurt plain - SGC# 185234

1/4 c sour cream - SGC# 193046

1 Tbsp lemon juice - SGC# 192674

1/2 Tbsp rice vinegar - SGC# 124936

1 tsp olive oil - SGC# 065312

1 clove garlic minced - SGC# 192922

1 Tbsp fresh dill chopped - SGC# 196220

1/2 tsp Montreal seasoning - SGC# 170679

Salt and pepper to taste - SGC# 052100; 169540
Instructions
Preheat oven to 400.

Place salmon fillets in a well-greased 9×13 pan.

In a small bowl, mix olive oil, lemon zest, and lemon juice. Drizzle over fillets.

Sprinkle with salt and pepper. Let sit for 10 minutes.

Bake for 15-17 minutes, or until salmon is cooked through (it depends on the thickness of your fillets).

While the salmon is cooking, mix the Greek yogurt, sour cream, lemon juice, rice vinegar, and olive oil until smooth.

Add garlic, fresh dill, Montreal seasoning, and salt and pepper. Mix well. Let sit at room temperature until the salmon is cooked.

Once the salmon is done, pour the Tzatziki sauce over the top and serve.
Recipes from Favorite Family Recipes