When you think of Halloween food, a bucket of your favorite chocolate bars and gummies may come to mind. But there are also cute and creepy cakes, spooky cocktails, and savory dinner dishes that all scream Halloween. Spice up the dishes you serve for this spooky holiday by adding some tricks to your treats.
From salty finger foods to adorable cupcakes and cookies, there are many ways to liven up your Halloween dinner or dessert spread. Try to incorporate fall flavors you love (a.k.a. plenty of pumpkin spice), and maybe even add some candy to the mixing bowl.
We have Halloween food ideas, both sweet and savory. Serve these Halloween recipes with spellbinding cocktails. Add a few Halloween movies in the background, a pumpkin carving station, and some candy for the trick-or-treaters—then get ready to party!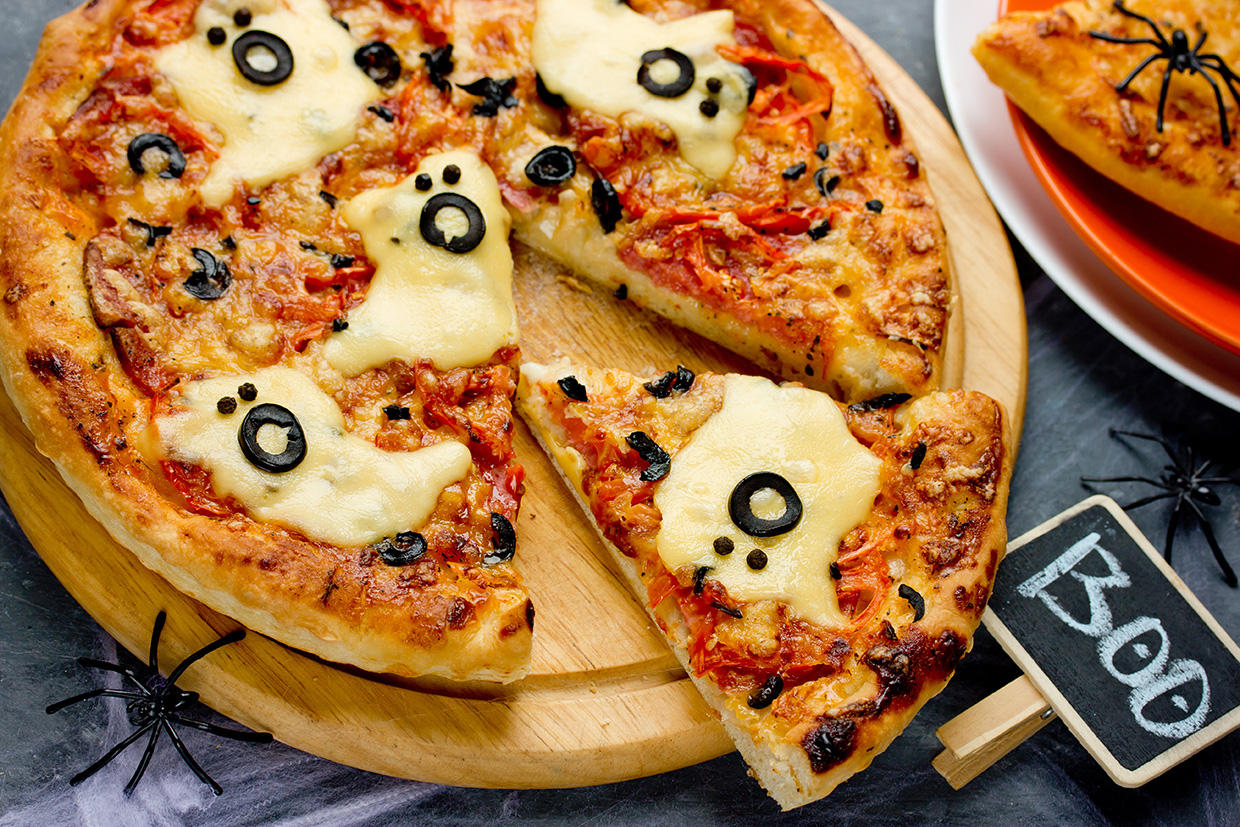 Halloween Ghost Pizza
Ingredients
Pizza Dough
2 cups plus 2 Tablespoons (11 ounces, 312 grams) bread flour

1-⅛ teaspoons instant or rapid-rise yeast

¾ teaspoon salt

1 Tablespoon olive oil

¾ cup (6 ounces, 177 ml) filtered water
Pizza Sauce
16 ounces (2 8-ounce cans) tomato sauce

6 ounce can tomato paste

2 cloves garlic minced

1-½ teaspoons dried oregano

1-½ teaspoons dried basil

1 teaspoon granulated sugar

½ teaspoon onion salt

¼ teaspoon salt
Ghosts for Pizza
6 slices (4 ounces, 113 grams) sliced Mozzarella cheese

1 Tablespoon sliced black olives
Halloween Ghost Pizza
8 ounces Pizza Dough, room temperature

1-½ Tablespoons olive oil

⅓ cup Pizza Sauce

¼ cup (.75 ounces, 22 grams) freshly grated Parmesan cheese

1-½ cups (6 ounces, 170 grams) shredded Mozzarella cheese

1 teaspoon olive oil, for drizzling on cooked pizza
Instructions
Pizza Dough
Add bread flour, yeast, and salt to the bowl of a food processor fitted with a steel blade. Pulse 5 times to combine. Add olive oil and water. Process until a rough ball forms, 30 to 40 seconds. Let rest for 2 minutes. Process an additional 30 seconds. Transfer to a lightly floured surface; knead by hand to form a smooth, round ball. Place in a large, lightly greased bowl; cover tightly with plastic wrap and let rise until doubled in size, about 1-½ hours. (See Note 1) Yield: 1 pound of pizza dough – enough for two pizzas.
Pizza Sauce
Add all ingredients to the blender. Purée for 30 seconds, or until all ingredients are well combined.
Ghosts for Pizza
Trace an 11-inch circle on a piece of parchment paper. Flip to the other side. Set aside.
Using ghost cookie cutters, cut out ghosts from sliced Mozzarella cheese. Position on parchment as you want them to appear on the finished pizza. (See Note 3)
Cut out eyes and mouths of black olive slices, and place them on the ghosts. Set aside until the pizza comes out of the oven.
Halloween Ghost Pizza
Preheat oven to 450° F.
Brush 1-½ Tablespoons of olive oil in bottom of 12-inch cast-iron skillet; set aside.
Divide pizza dough in half. Press and roll one piece of dough into an 11-inch round. Transfer to prepared cast-iron skillet; gently push it to the corners of the pan. Spread ⅓ cup of super-simple pizza sauce over surface of dough leaving ½-inch border around the edge. Top with ¼ cup of the grated Parmesan cheese and 1-½ cups of the shredded mozzarella cheese.
Set skillet over medium heat and cook until the outside edge of the dough is set and the pizza is lightly puffed, about 5 minutes. Transfer skillet to preheated oven; bake until the edge of the pizza is golden brown and the cheese is melted, 8 to 10 minutes.
Remove pizza from oven; position the ghosts on the hot pizza.
Remove pizza from cast-iron skillet. If desired, drizzle with olive oil, and serve.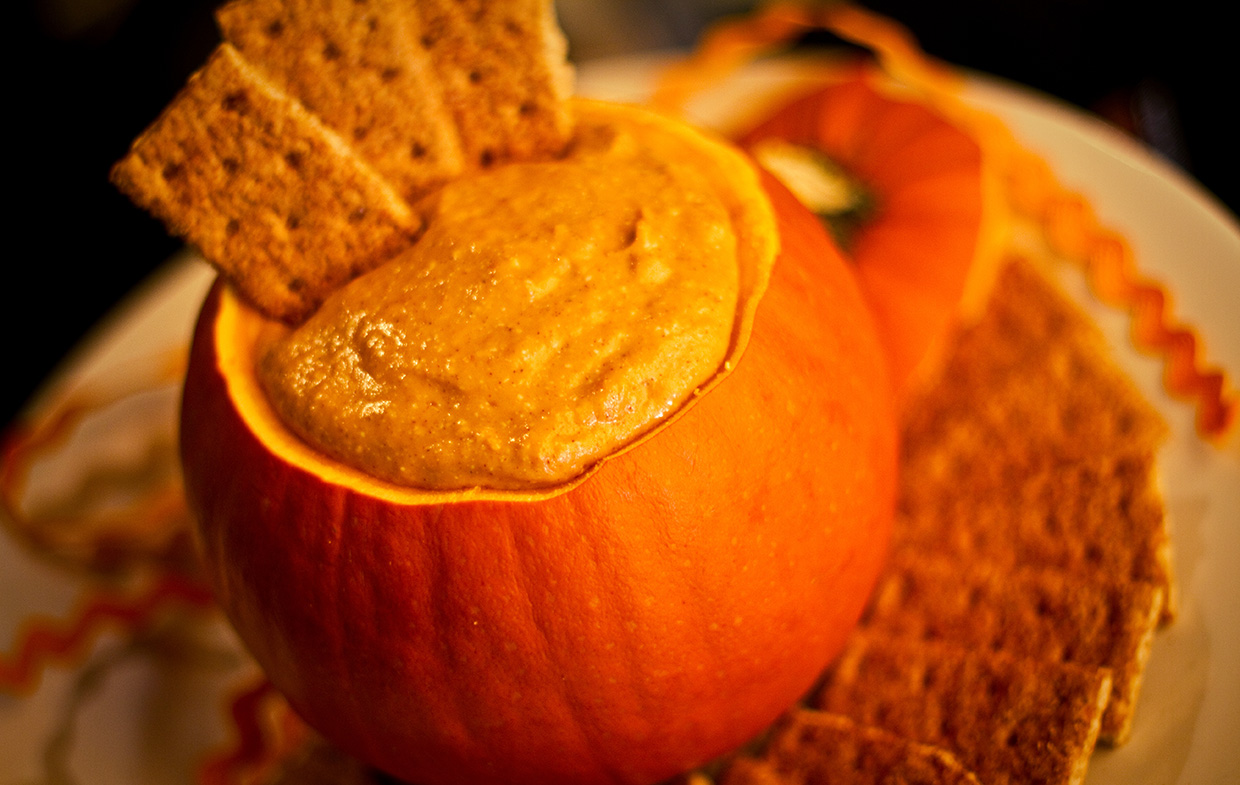 Pumpkin Dip
Ingredients
1 8oz package cream cheese softened

1/2 cup brown sugar

1 15oz can pure pumpkin puree

1 tablespoon pumpkin pie spice

1 teaspoon maple syrup

1 1/2 cups frozen whipped topping thawed
Instructions
Use an electric mixer, blend together softened cream cheese and brown sugar. Blend this until creamy. Blend in the pumpkin puree, pumpkin spice, and maple syrup.

Fold thawed whipped topping into the pumpkin mixture gently, just until combined. Over stirring will make the dip more dense.

Store in the refrigerator for up to five days.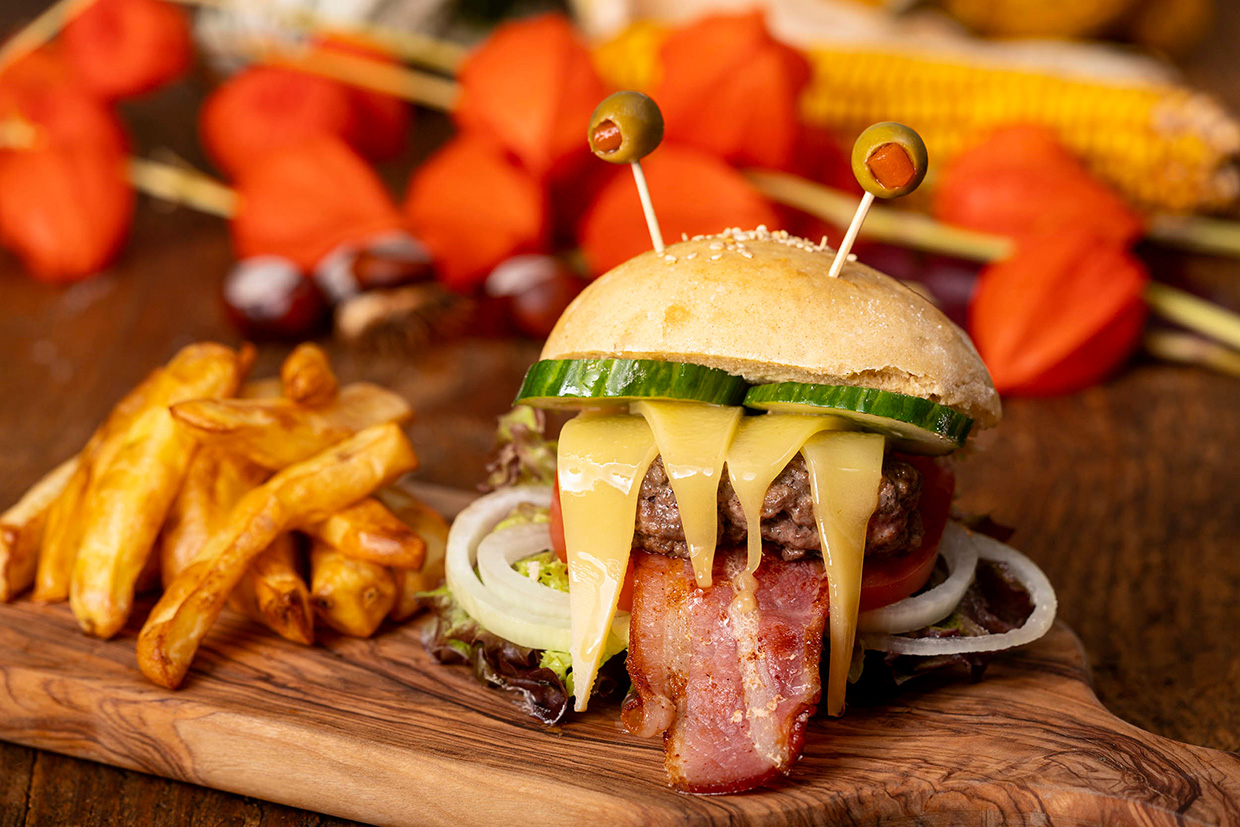 Monster Burgers
Ingredients
1 pound lean ground beef, made into 1/3 pound burgers

3 sesame seed buns

3 sandwich dill pickles

ketchup

Muenster cheese, or other white cheese

Spanish olives

bacon

toothpicks
Instructions
Prepare your burgers to your liking.
Cut the edge of the cheese into "teeth."
Place large Spanish olives on toothpicks for the eyes. Do the same with 1/2 pieces of bacon for the eyebrows.
Cut the end of the pickle into a "fork tongue."
Place the burger on the bottom bun. Lay the pickle on the burger hanging off a little bit. Next, add your cheese, making the teeth hang over the side and the tongue.
Top with marinara sauce, let some ooze out. Place the top bun on the burger.
Add green olives for eyes and bacon for eyebrows.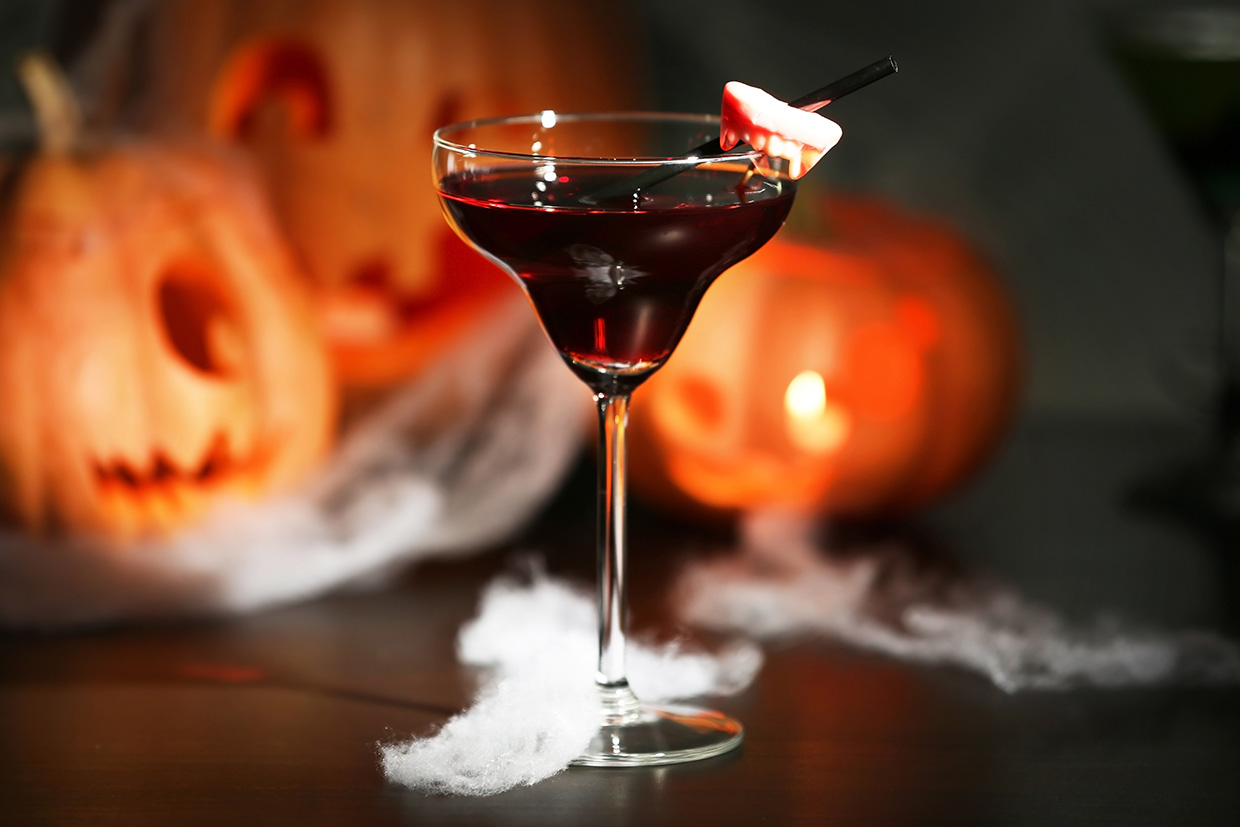 Vampire's Blood Cocktail
Ingredients
For the rim:
2 teaspoons maple syrup

2 teaspoons freeze-dried raspberry powder
For the drink:
6 raspberries - fresh or frozen + defrosted

2 oz (1/4 cup) vodka

2 oz (1/4 cup) Chambord

4 teaspoons lime juice
Instructions
For the rim:
Mix this together in a small bowl. It should be kind of thick and gloopy. Don'tDon't put on the glasses until ready to serve.
For the drink:
Place the raspberries in a small bowl and use a fork to mash them until very well broken down.
Put them in a cocktail shaker, add the remaining ingredients, and shake about 10 seconds.
Take a silicon spatula and apply a thin layer of raspberry blood around the rims.
Strain the drink into the prepared glasses. If using dry ice, please read all the safety tips first and then add a chunk of dry ice to the cocktail.