Plant-based foods have been on the rise for many years, propelled primarily by the rise of flexitarianism. The flexitarian diet consists of plant-based foods with the limited inclusion of animal products. In recent years, it has gained popularity for its healthy reputation while not excluding America's love for a solid burger.
For operators, this shift in eating habits is a great opportunity to cater to consumer needs and offer a variety of menu options that can help to increase business. The more variety of meatless options operators can provide, the more diets they will be including.
How Popular is Flexitarianism?

Recent polls have shown that 42% of global consumers are flexitarians. This number has been driven up in recent years by the Gen Z crowd. Consumers are increasingly interested in heavy plant diets with a higher demand for foods and ingredients that support their personal health.
It should be noted that It's tricky to track the flexitarian, as many who avoid meat don't always put a label on their diet. Studies have shown that despite many people actively trying to eat less meat, very few would self-identify as 'flexitarian.'
Vegetarian vs. Flexitarian

Vegetarians adhere to a strict diet that excludes all meat, including poultry and fish. Whereas flexitarians are semi-vegetarian, meaning their diet is almost all plant-based, but occasionally they will include meats. Most flexitarians are avoiding dairy as well, which can be quite different from a vegetarian. Vegetarians usually include dairy, eggs, and other animal products consistently in their diet. Flexitarians will also consume dairy and animal products, but they consistently avoid it.
Meat as a side dish

Traditionally speaking, meat has always been seen as an entrée dish. However, 34% of consumers say they would take a beef side dish if it were offered. Imagine, if you will, a robust cauliflower entrée dish, where grilled steak is the side dish instead of vice-versa. Many consumers are looking for healthier options and more veggies, but they don't want to give up the indulgence of meat entirely. Offering meat as side dishes is an unexpected way to cater to the flexitarian while leaving room for others to add to their order.
Re-thinking how meat is treated on a menu, can open the door to new and innovative options. Adding meat as a side dish option not only increases the options for flexitarians but it also opens a door for heartier sides that come with an increased price tag. These sides can give way to other side dishes that may have been seen as too pricey for the add on portion of a menu.
Just as the flexitarian diet is "flexible" your menu should also be. It's important to give a menu room to grow and change. As consumers demand more options and eating habits change, be sure your menu is keeping up with the changes. SGC Tip: Keep a small side menu that can easily be changed at each table. This will cut down on menu changes while giving flexibility.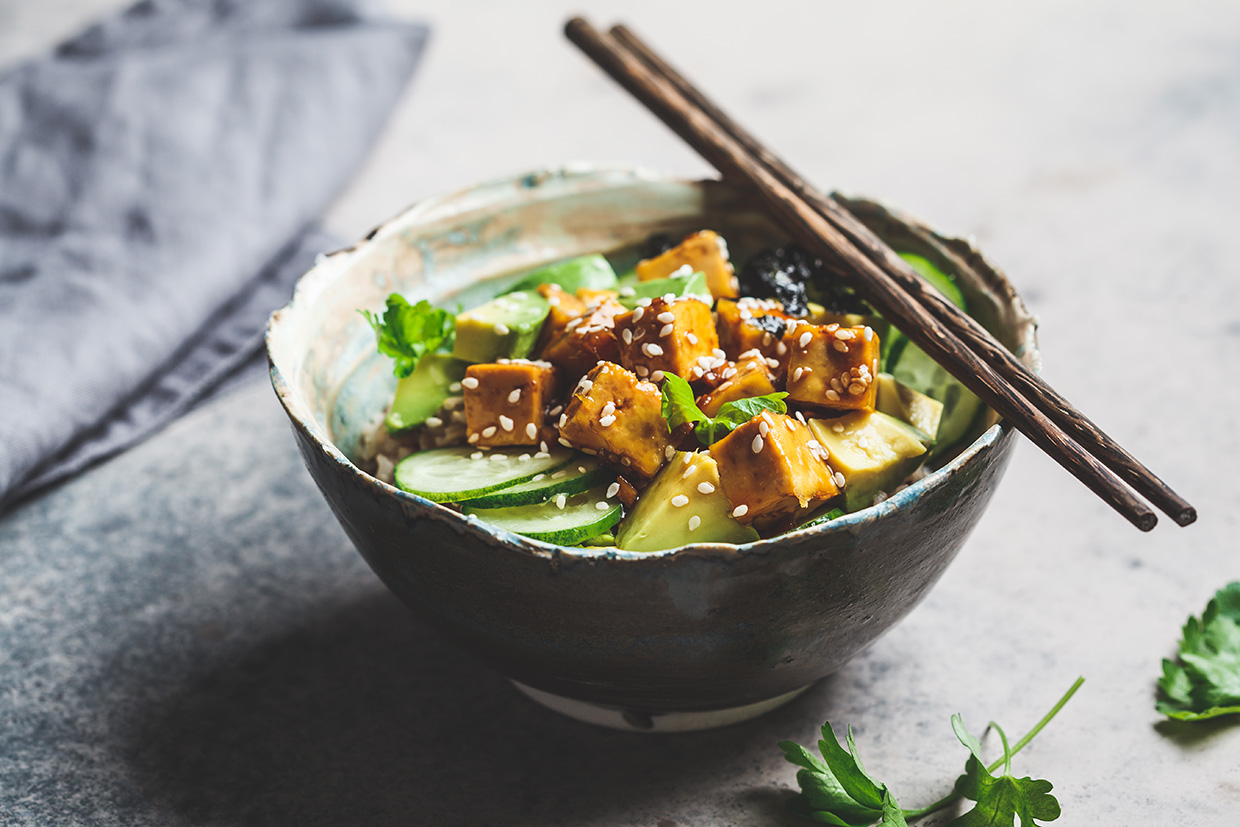 TOFU POKE
Ingredients
Ingredient Checklist
¾ cup thinly sliced scallion greens - SGC# 192014
¼ cup reduced-sodium tamari - SGC# 600574

1 ½ tablespoons mirin - SGC# 563805

1 ½ tablespoons toasted (dark) sesame oil - SGC# 487701

1 tablespoon toasted sesame seeds - SGC# 171557

2 teaspoons grated fresh ginger - SGC# 191395
½ teaspoon crushed red pepper (Optional) - SGC# 171033

1 (12 ounce) package extra-firm tofu, drained, and cut into 1/2-inch pieces - SGC# 191338

4 cups zucchini noodles - SGC# 195724 or 195727

2 tablespoons rice vinegar - SGC# 124936

2 cups shredded carrots - SGC# 192476
2 cups pea shoots - SGC# 195290

¼ cup toasted chopped peanuts - SGC# 141515

¼ cup chopped fresh basil - SGC# 193458
Directions
Whisk scallion greens, tamari, mirin, oil, sesame seeds, ginger and crushed red pepper, if using, in a medium bowl. Set aside 2 tablespoons of the sauce in a small bowl. Add tofu to the sauce in the medium bowl and gently toss to coat.

Combine zucchini noodles and vinegar in a large bowl. Divide among 4 bowls and top each with 3/4 cup tofu, 1/2 cup each carrots and pea shoots, and 1 tablespoon each peanuts and basil. Drizzle with the reserved sauce and serve.