If there's one thing the scorching summertime heat needs, it's more ice cream! We've found 10 unique ice cream flavors that you have to try! These odd combos and flavors are gaining popularity in the foodie community. So, hop on the train before they melt!
1. Ice Cream with Hot Sauce
We'll admit this one sounds a little odd but it's delicious! The cold sweetness is balanced by the spicy heat of the hot sauce for a perfectly balanced dessert. Try with Sriricha, Sambal, or plain ol' hot sauce.
2. Ice Cream with Olive Oil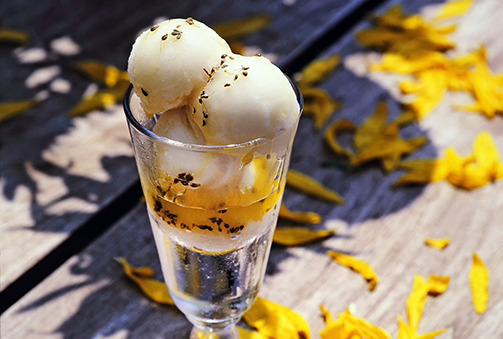 Don't knock this one until you try it. There are a few different ways to incorporate olive oil into ice cream but we have two suggestions. Try lemon sorbet with a drizzle of olive oil for a bite to balance the sour. Or get a little crazy and add gorgonzola, olive oil, and almonds!
3. Ice Cream with Crushed Wasabi Peas
And we're back to the spicy heat and cold ice cream. It's just a match we can't resist. This odd combo adds another element of surprise in it's bright green color. Perfect for a summertime dessert menu.
4. Rock Salt
We all know sweet and salty go together and ice cream is no exception. Kick up the vanilla ice cream with some simple rock salt and a drizzle of caramel.
5. Balsamic
We couldn't mention olive oil without mentioning its pal, balsamic. Revamp vanilla ice cream with fresh goat cheese and a drizzle of balsamic. This odd combo will bring a little sour, and a little bite to that sweet ice cream.
6. Ice Cream and Figs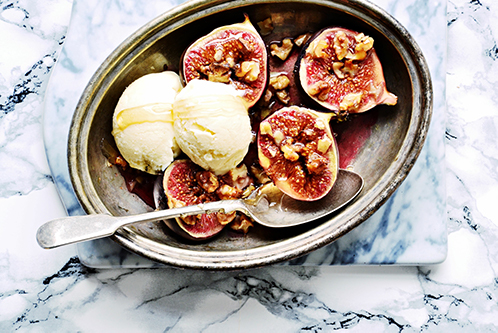 Vanilla ice cream pairs perfectly with freshly roasted figs. Add some almonds for a little bit of crunch! This dessert is an easy way to elevate vanilla ice cream.
7. Espresso Grounds
Coffee ice cream has been a fan favorite in the foodie community for many years but espresso grounds are a little different. Add a tablespoon or two on top of fresh vanilla ice cream for a coffee flavor with a fun texture.
8. Matcha Ice Cream
Matcha ice cream gained traction in the mainstream last year and it appears it's here to stay. Made with green tea, it can be described as a subtle sweetness, perfect for the "it's too rich" crowd.
9. Ice Cream with Bacon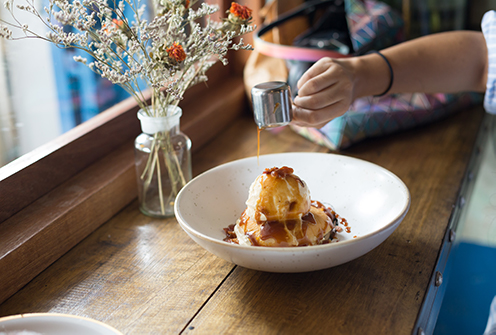 If there's one meat we can all agree on, it's pretty much bacon. Have you ever smelled fresh bacon sizzling on the stove? How could we not toss some on our ice cream! Pair vanilla ice cream with bacon and maple syrup for a truly decadent cool down.
10. Basil Ice Cream
Basil ice cream is another subtle sweet dessert. Pair with a tomato jam on top of a gourmet waffle for a truly unique dessert experience.