Mother's Day is right around the corner, and it's the perfect opportunity for your business to drive sales for the weekend. Mother's Day is one of the most popular holidays of the year for consumers to dine out. Approximately 87 million people choose to dine at a restaurant for this special occasion. Use this weekend to cater to mothers and families and increase revenue for your business.
Your restaurant has a huge opportunity to drive families into the seats of your business. Your customers want to celebrate this special day the right way, so why not make it easy for them to show their mothers that they are appreciated? Here are a few Mother's Day promotion ideas that will help.
Promotions and Offers
It's essential to advertise your Mother's Day promotion as a rare event. This provides an exceptional experience for repeat guests while creating a sense of urgency for any unique menu offerings. Make your guests feel special to be one of the "lucky few" who were there to try it. Offer some limited-time menu items just for mom's special day, like a Mother's Day Brunch. Perhaps something different like fine tea and pastries will present a unique alternative to brunch reservations. You could also consider doing the exact opposite. If your competitors are all offering a special brunch menu, you could plan a tasting menu for Mother's Day dinner. This will open up the market for guests who have difficulty gathering or planning around church schedules on Sunday mornings.
Another critical thing to market is your inclusivity. Be sure not to alienate any families by only catering to one version of what "mom" can mean. People from grandmothers and aunts can fill this role to nannies and babysitters. Your take on Mother's Day should make your guests feel seen and appreciated. Make it clear to your customers that "mom" and "family" aren't strictly interpreted in your restaurant and that all families are welcome.
Gifts for Moms
This is a holiday to celebrate mothers, and they should be given special treatment! Instead of, or perhaps on top of, offering freebies, toss some gifts for mom into the mix. Consider offering flowers or chocolates to your customer to show that you care and are going out of your way to make the day as memorable as possible.
You can also use this opportunity to offer a free dessert or cocktail for mom. Presenting some treats or drinks for free will likely get you featured on social media for doing so, which means free press for your business!
Host an Event
If your establishment is more of a bar, consider hosting a Mother's Day Eve event that offers a fun night out for moms before a day where they are guaranteed to be able to sleep in. Consider offering a complimentary cocktail or drink specials for the fun night out of celebration. You may also consider having an event with live music. You can market tickets to the event ahead of time and let moms know that you're planning a special night out just for them! Capitalize on the Mother's Day crowd in a unique and fun way without having to compete for a brunch crowd.
Recipes to Try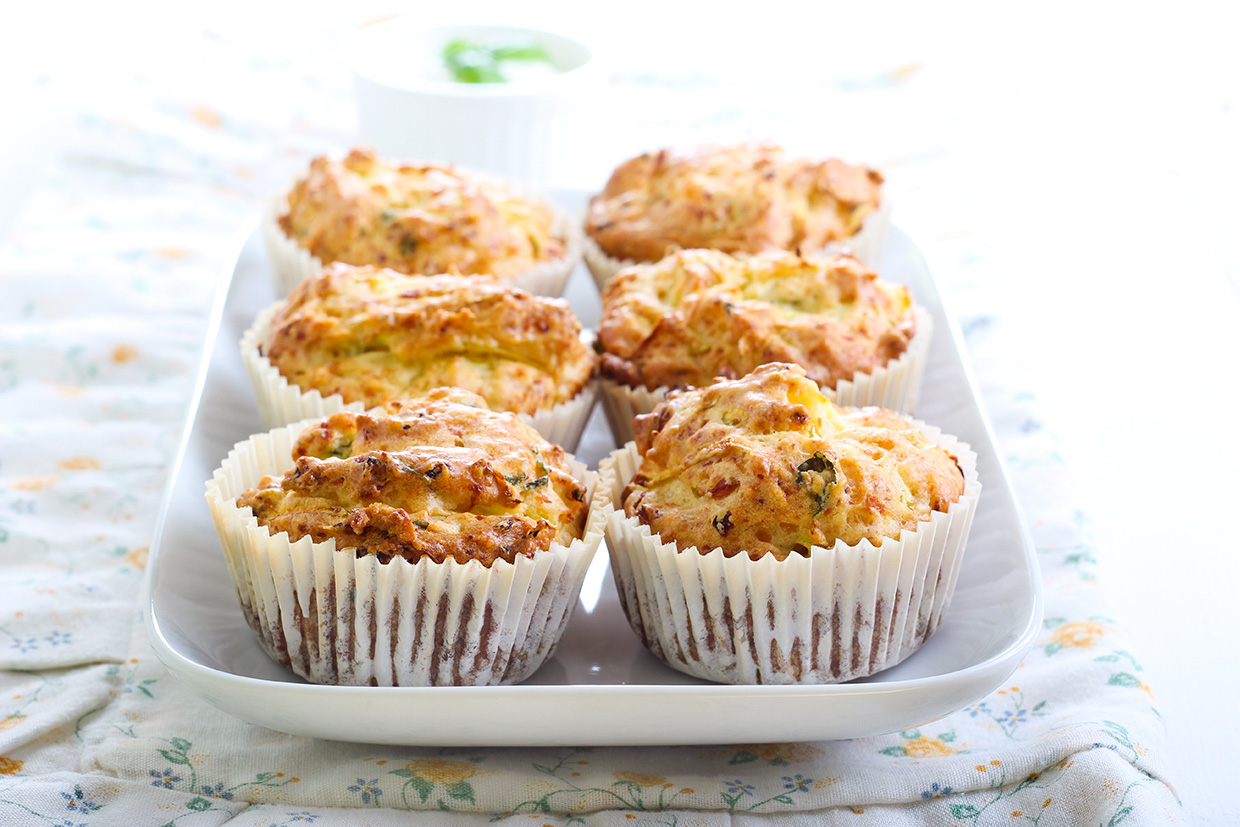 Bacon, Egg, and Cheese Breakfast Muffins
INGREDIENTS
6 eggs – SGC # 193001

8 ounces Mill Street Sliced bacon, chopped – SGC # 227353
3 cups all-purpose flour – SGC # 053330

2 teaspoons baking powder – SGC # 052886

½ teaspoon baking soda – SGC # 053009

¾ teaspoon salt – SGC # 052100

½ teaspoon freshly ground black pepper – SGC # 169540
⅓ cup vegetable oil – SGC # 054346

1¼ cups buttermilk – SGC # 194563

1 cup chopped scallions – SGC # 192014

1½ cups grated cheddar cheese, divided – SGC # 054067
INSTRUCTIONS
1. Preheat the oven to 350°F. Grease the cavities of a six-cup jumbo muffin pan.
2. Place the eggs in a medium pot and cover with water by half an inch. Place the pot over medium-high heat and bring the water to a boil. Once it boils, remove it from the heat and cover the pot. Let the eggs sit for 10 to 11 minutes.
3. Drain the eggs and run cold water over them. Let them cool completely and then peel and discard the shells.
4. While the eggs cook, heat a medium sauté pan over medium heat. Add the chopped bacon and cook until golden brown and crisp, 6 to 8 minutes. Drain on absorbent paper towels and let cool completely.
5. In a large bowl, whisk the flour with the baking powder, baking soda, salt, and pepper to combine. In a separate bowl, mix the vegetable oil with the buttermilk to combine.
6. Pour the buttermilk mixture into the flour mixture and combine. Fold in the cooled bacon, the scallions, and 1 cup of cheddar cheese.
7. Scoop the muffin batter into the prepared pan, filling each cup a third of the way full (about 3 tablespoons).
8. Place a peeled egg into each cup on top of the batter and press it slightly into the batter. Divide the remaining batter evenly among the cups and press gently around the egg to cover fully.
9. Sprinkle 4 teaspoons of cheddar cheese on top of each muffin and then bake until the cheese is melted and golden, 17 to 20 minutes. Let cool at least 5 minutes before serving.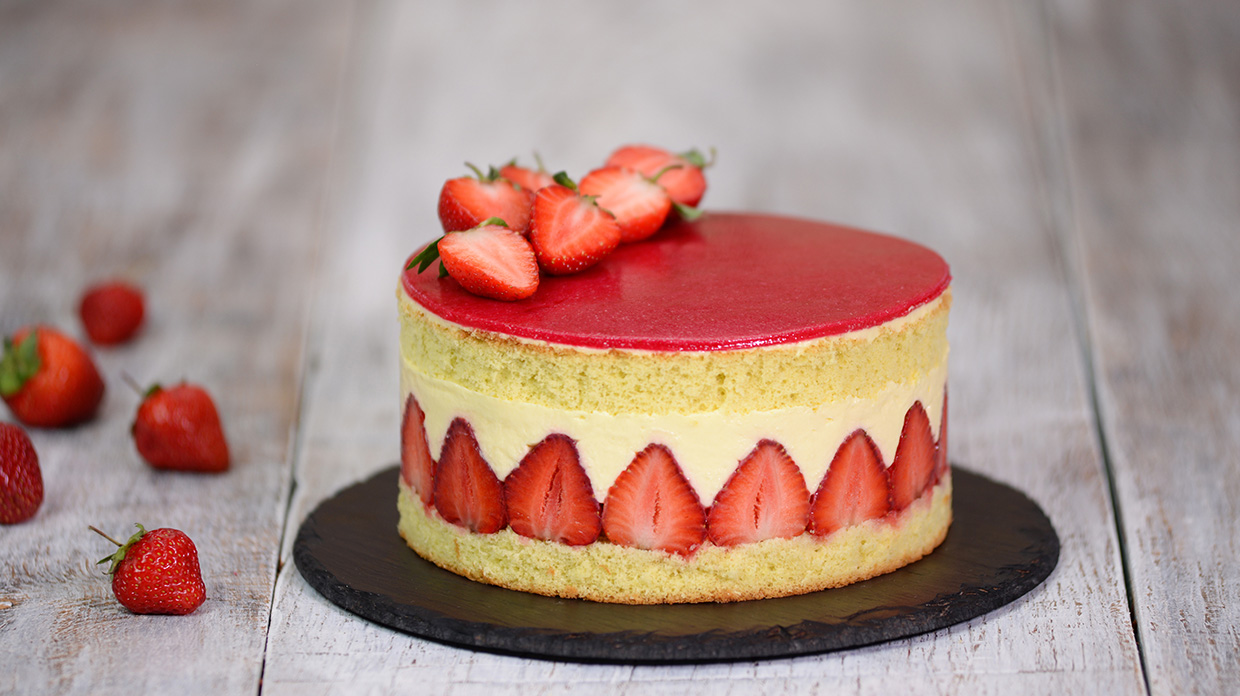 Strawberry Shortcake Cheesecake
INGREDIENTS
Vanilla cake mix, plus ingredients called for on box 2

(8-oz.) blocks cream cheese softened to room temperature – SGC # 474453
3/4 cup powdered sugar – SGC # 055442

2 cups Hiland heavy cream – SGC # 195486

3 cups strawberries, 2 cups sliced, and the rest left whole – SGC # 193128
DIRECTIONS
Grease an 8" springform pan with cooking spray.
In a large bowl, mix all ingredients for vanilla cake. Pour ½ cup into the pan, or enough to coat the bottom of your pan. (Save the rest of the batter for a separate cake or cupcakes!)
Bake until golden and a toothpick comes out dry.
In a large bowl using an electric mixer, beat cream cheese until light and fluffy, 2 minutes. Add sugar to combine, then gradually add cream and beat on high speed until stiff peaks form.
Press the slices of strawberries along the edge of the springform pan so that the bottoms of the strawberries touch the cake. Place your whole strawberries on the surface of the cake, leaving about a ½" between each. Cover with the cheesecake mixture and refrigerate for 5 to 6 hours.
Garnish with more chopped strawberries. Serve.