Every restaurant should offer an appealing selection of desserts. As our communities start returning to normal operations after pandemic changes, people are ready to visit their bakeries and restaurants to try something new and exciting.
There is a dessert for every mood and moment, and in 2022 this will be more so than ever. It's becoming more common that desserts are not just about sweet indulgence but a fun experience with unique combinations. Consumers want new flavors and textures but are also looking for baked goods with added benefits to support their health.
Nostalgia trends
Consumers are still hankering for treats of yesteryear but may be looking at them in a new light. With the pandemic and isolation, nostalgic treats provided comfort at an uncomfortable time and continue to show a rising interest. Desserts like pineapple upside-down cake, strawberry cream cake, and smores are becoming increasingly popular, and chefs are starting to put a new twist on them. Consider offering smores with an interesting flavor of chocolate or unique toppings or traditional cakes in a fun, new form. Customers are still looking for that sense of familiarity in treats, but with additional flavor twists.
Healthy alternatives
Dairy alternatives are taking over supermarkets, and plant-based options are popping up at large food chains and restaurants. The demand for plant-based products is expected to grow as they meet consumers' desire for health benefits and ethical food choices. Studies show that 66% of consumers now want to know where their food comes from and how it is made. There is an increasing awareness of the impact humans have on the planet, and they are making an effort to make informed decisions about what they buy and eat. Consumers are showing a particular interest in companies that have sustainable packaging, organic products, vegan and vegetarian options, and production with care for the environment. Inform your customers of your sustainability credentials and all of the animal-conscious options you offer.
Dessert boards
We're all aware of the rising popularity of charcuterie boards; now, consumers are starting to show interest in dessert boards. Instead of meats, veggies, and cheeses, the newest trend is a sharing platter of treats. Think puddings in miniature form, cookies, candies, cakes, fruits, and macarons. These boards are becoming hugely popular for weddings, baby showers, and restaurant Sunday brunches.
Coffee and Tea Infusions
Dessert lovers are beginning to appreciate the flavor profiles and finer nuances of coffee like origin and roast and brewing methods, and now it's making its way into desserts. While we're all familiar with coffee cake, new flavors are being introduced to desserts like latte, espresso, matcha, chai, and earl grey. Herbal and floral teas will feature in many new sweet bakes, particularly in complementary icings and frostings.
Recipes to Try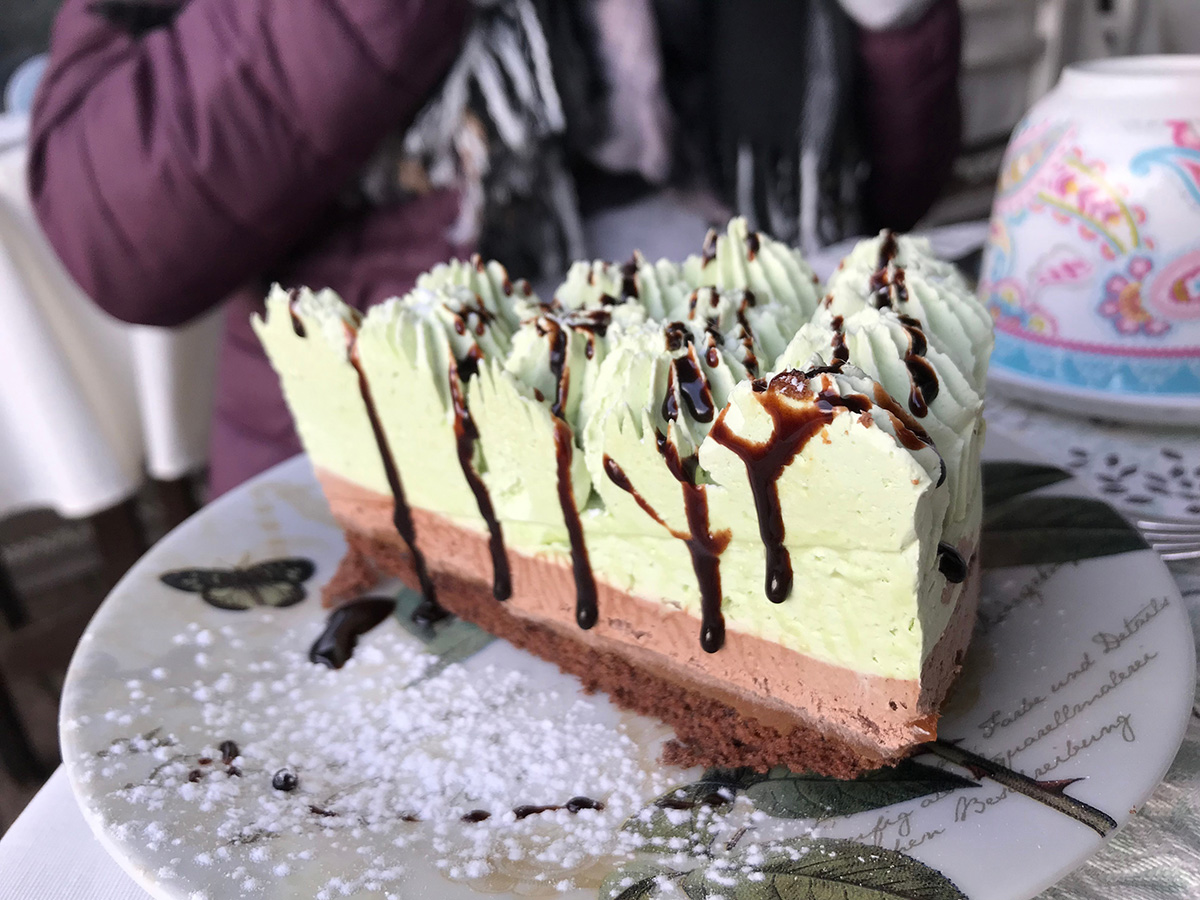 Coffee Ice Cream Cake
Ingredients
½ cup light corn syrup

1 cup heavy cream

10 ounces semisweet chocolate, chopped

16 graham crackers, broken into 1/2-inch pieces

1 cup toasted almonds

3 tablespoons white sugar

½ cup melted butter

1 ½ quarts coffee ice cream, softened

1 (7 ounce) jar marshmallow creme

2 cups miniature marshmallows
Instructions
To make fudge sauce, combine heavy cream and corn syrup in heavy saucepan. Bring to a boil, remove from heat, add chocolate and whisk until smooth. Refrigerate until cool, about 45 minutes.

To make ice cream cake, preheat oven to 350 degrees F (175 degrees C). Finely grind graham crackers and almonds in food processor or blender. Stir in sugar. Add butter and process until moist crumbs form. Press mixture into bottom and sides of 9 inch spring form pan. Bake until golden, about 12 minutes. Allow to cool, then spread 2 cups softened ice cream over crust. Spoon 3/4 cup fudge sauce over ice cream. Freeze until set, then repeat layering. Cover and freeze 8 hours or overnight. Refrigerate remaining fudge sauce.

The next day, preheat the oven broiler. Warm the remaining fudge sauce in the microwave or a small saucepan. Place the cake pan on a cookie sheet. Spread the marshmallow creme over cake and sprinkle miniature marshmallows on top. Place under broiler until marshmallows are deep brown. Loosen cake with knife and remove sides of pan. Serve immediately with warmed fudge sauce.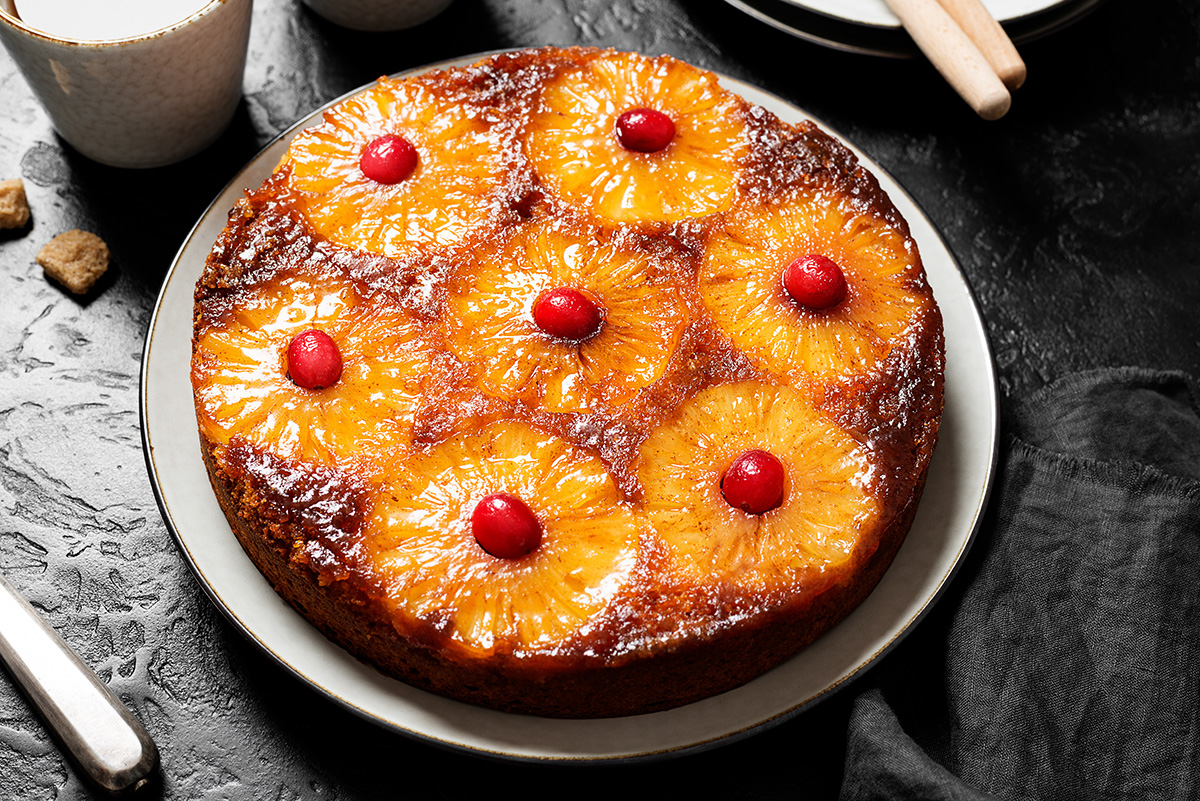 Vegan Pineapple Upside-down Cake
Ingredients
For the bottom:
1 stick vegan butter room temp

1 cup brown sugar packed

8 pineapple rings

8 maraschino cherries without stems
For the cake:
2 cups flour

1 stick vegan butter room temp

1 cup unsweetened applesauce

¾ cup pineapple juice reserved from can

½ cup white sugar

½ cup brown sugar packed

½ cup almond milk

1 tablespoon lemon juice

1 tablespoon vanilla extract

1 ½ teaspoons baking powder

1 teaspoon salt
Instructions
Preheat the oven to 350°F and spray a 9x13 cake pan with nonstick spray.

Place the butter for the bottom in a small bowl and melt in the microwave until no lumps remain.

Stir in the brown sugar until thoroughly combined.

Pour the brown sugar mixture into the bottom of the prepared pan and spread even.

Arrange the 8 pineapple rings evenly over the top of the brown sugar mixture and place a cherry in the middle of each ring.

For the batter, in a large bowl, combine both sugars and the butter and cream together.

Add the rest of the ingredients, except the flour and baking powder and mix well.

In a separate bowl, mix together the baking powder and flour.

Add the flour mixture to the sugar mixture and mix well.

Pour over the top of the pineapple slices and carefully spread even.

Bake for 25 minutes or until a toothpick comes out clean when inserted into the middle of the cake.

Remove from the oven and let cool for at least 20–30 minutes.

Invert, carefully, onto a flat surface such as a serving tray.

Slice, serve, and enjoy!