ARE YOU READY FOR SOME WINGS?!
The Super Bowl is right around the corner, and what better way to celebrate the big game than with some delicious wings? From classic buffalo to spicy honey garlic, there's a wing recipe for everyone. So grab a cold drink, gather your friends, and get ready to dive into a plate of these finger-licking good treats. Here are a few of our favorite recipes to help you get started.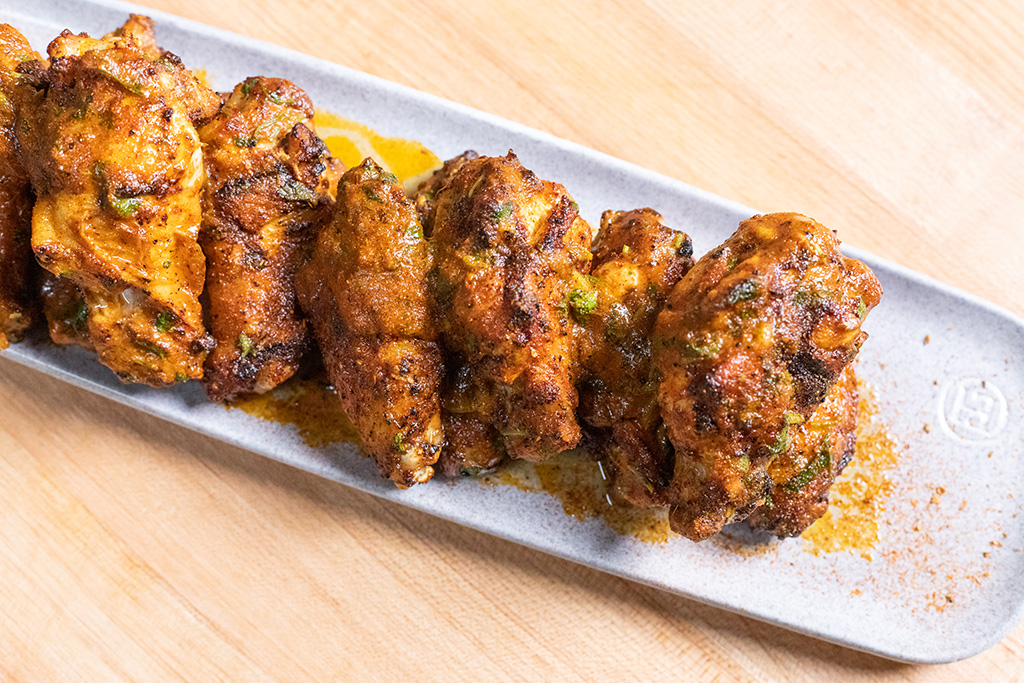 1. Asian Glazed Wings
Ingredients
10 pounds chicken wings, split – SGC# 211413

1/4 cup coriander seeds, crushed – SGC# 191731

1 teaspoon cumin – SGC# 171561

1 teaspoon cinnamon – SGC# 171521

2 tablespoons kosher salt – SGC# 052100
1/4 cup extra-virgin olive oil – SGC# 065312

3/4 cup Sriracha chile sauce – SGC# 487030

1 1/2 sticks (12 tablespoons) unsalted butter, melted – SGC# 054130

1/2 cup chopped cilantro – SGC# 169672

Finely grated zest and juice of 3 limes – SGC# 192625
3 quarts frying oil – SGC# 054304
Directions
In a very large bowl, toss the wings with the coriander and cumin seeds, cinnamon, kosher salt and olive oil. Cover and refrigerate for at least 4 hours or overnight.
Preheat the oven to 375°. Spread the wings on 3 large rimmed baking sheets and roast for about 30 minutes, until firm but not cooked through. (At this point, if you don't want to fry the wings, you can roast them for 1 hour longer, until crispy and golden.) Wash out the bowl. Add the Sriracha, butter, cilantro, lime zest and juice.
In a deep fryer or a very large saucepan, heat the vegetable oil to 375°.
Fry the wings in 4 or 5 batches until golden and crisp, about 5 minutes per batch; drain, shaking off the excess oil. As each batch is finished, add the wings to the sauce and toss well. Transfer the wings to a platter, leaving the sauce in the bowl for the remaining batches. Serve hot.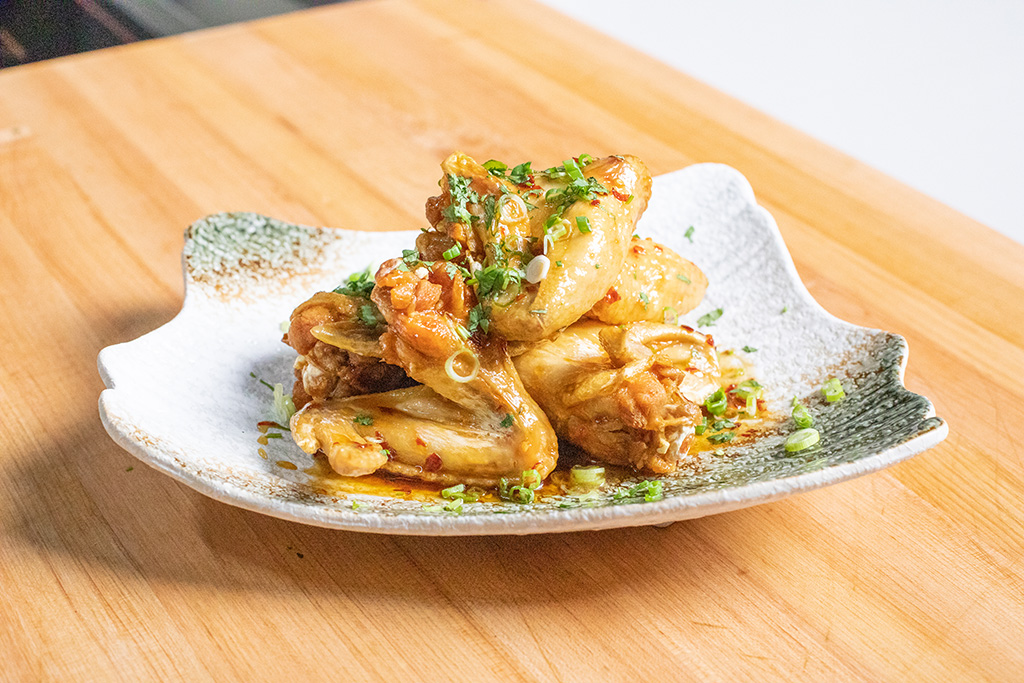 2. Sweet Chili Wings
Ingredients
4 pounds chicken wings – SGC# 211413
¼ cup extra-virgin olive oil – SGC# 053059

Salt and freshly ground pepper – SGC# 052100 & 169540

¼ cup unseasoned rice vinegar – SGC# 586603

1 teaspoon crushed red pepper – SGC# 191779

½ cup honey – SGC# 122036
2 tablespoons soy sauce – SGC# 087841

2 green onions (thinly sliced) – SGC# 192014
Directions
Preheat the broiler and set a rack in the center of the oven. In a large bowl, toss the chicken wings with the olive oil and season with salt and pepper. Arrange the wings on a wire rack set over a large, sturdy baking sheet. Broil for 45 to 50 minutes, turning once or twice, until the wings are cooked through and crisp.
Meanwhile, in a small saucepan, combine the vinegar and crushed red pepper and simmer for 1 minute. Let cool, then whisk in the honey and soy sauce.
In a large bowl, carefully toss the chicken wings with the honey-soy mixture. Transfer the wings to a platter, sprinkle with the green onions and serve.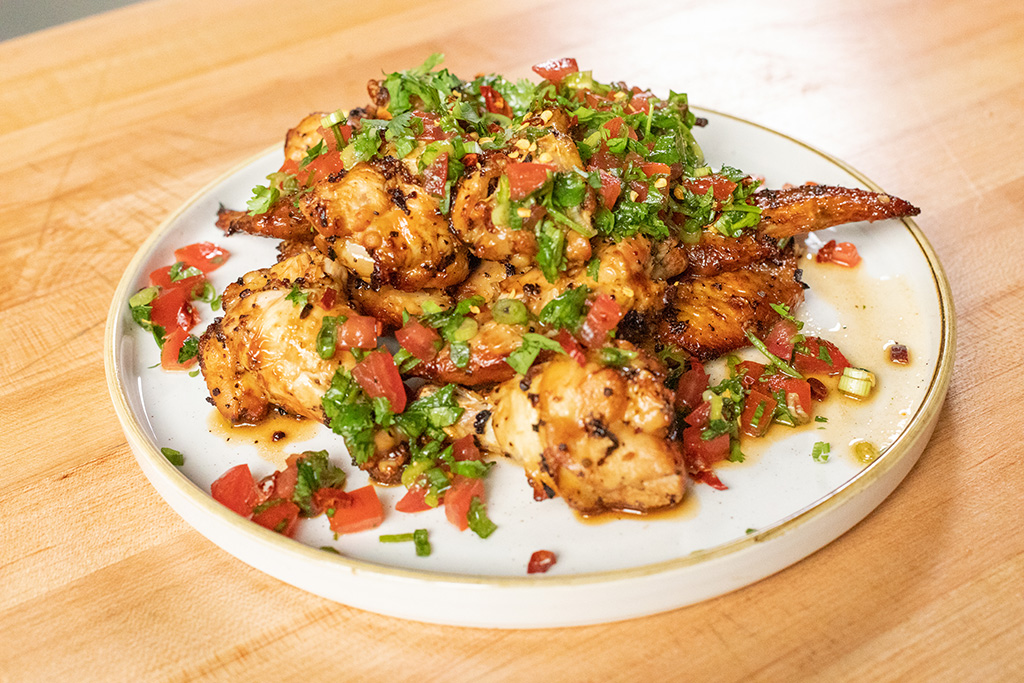 3. Filipino Chicken Wings
Ingredients
2 pounds chicken wing drumettes and flats, patted dry – SGC#

1¼ teaspoon kosher salt – SGC# 052100

½ teaspoon black pepper – SGC#

1 small white onion, thinly sliced – SGC# 191966

1 (2-ounce) garlic head, cloves separated, peeled, and smashed – SGC# 192922

⅓ cup soy sauce – SGC#

⅓ cup white vinegar – SGC# 124936

2 tablespoons oil – SGC# 054472

2 to 3 dried bay leaves – SGC#

Cooking spray – SGC#
Filipino Pico
4 medium scallions, thinly sliced – SGC#

¼ cup chopped fresh cilantro– SGC# 193201

1 medium serrano chile (unseeded), thinly sliced – SGC#

2 medium tomatoes – SGC#

1 ½ teaspoons fish sauce – SGC# 056080

Kosher salt, to taste – SGC# 052100
Directions
Make the chicken wings:
Sprinkle chicken all over with salt and pepper. Transfer chicken to a large ziplock plastic bag; add onion, garlic, soy sauce, vinegar, oil, and bay leaves. Seal bag, and toss mixture to combine evenly. Marinate chicken mixture in the refrigerator at least 8 hours or up to 1 day.

Preheat oven to 425°F. Line a rimmed baking sheet with aluminum foil. Lightly coat an oven-safe wire rack with cooking spray, and set in baking sheet. Remove chicken wings from marinade, scraping off excess, and transfer to a paper towel-lined plate; pat dry. Reserve marinade in bag. Arrange wings at least 1/4 inch apart on a prepared wire rack. Roast in preheated oven until browned and crisp and a thermometer inserted in thickest portion of meat registers at least 165°F, 45 to 50 minutes, flipping wings after 25 minutes.

Meanwhile, bring reserved marinade to a boil in a small saucepan over medium. Boil, stirring occasionally until liquid is slightly thickened and reduced to about 3 tablespoons, 14 to 16 minutes. Pour mixture through a fine wire-mesh strainer set over a large bowl; discard solids. Set reduced marinade aside.
While chicken wings bake, make the Filipino pico:
Reserve 1 tablespoon scallions, 1 tablespoon cilantro, and a few slices of serrano for garnish; set aside. Stir together tomatoes and remaining scallions, cilantro, and serrano in a medium bowl. Stir in fish sauce, and season to taste with salt. Set aside.

Add chicken wings to bowl with reduced marinade, and toss to coat. Transfer to a platter, and garnish with reserved scallions, cilantro, and serrano. Sprinkle evenly with fried garlic. Serve immediately.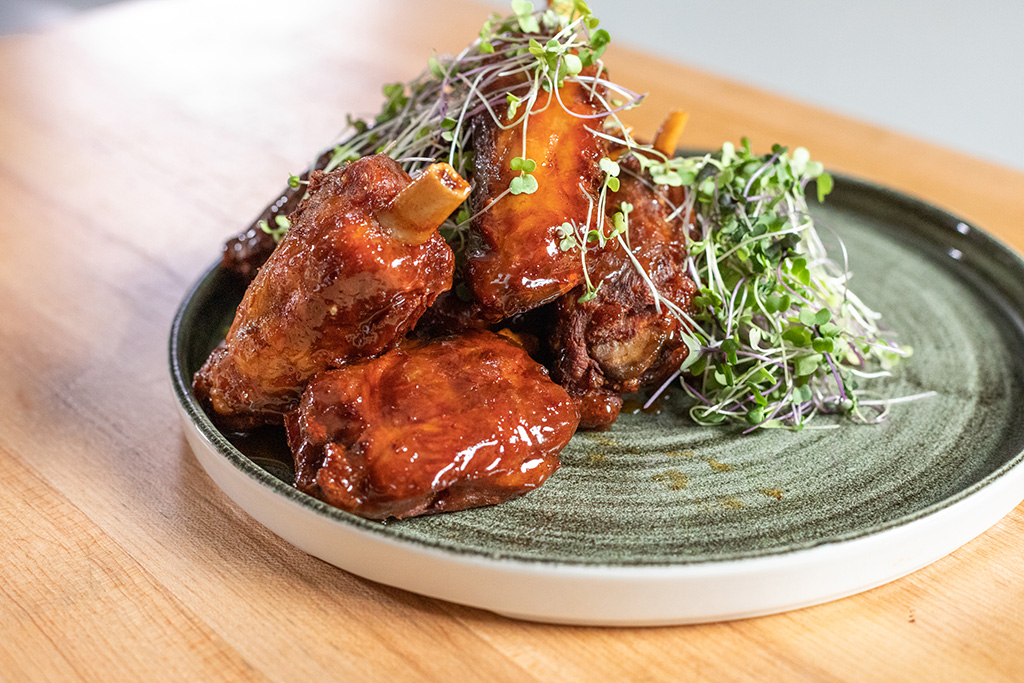 4. Smithfield Pork Wings with French's Honey Garlic Sauce
Ingredients
7ea Smithfield Mini KC Wild Wings – SGC# 219779

3oz- French's/McCormick Honey Stung Garlic Sauce - SGC# 125668
Directions
Deep fry the Smithfield mini pork wild wings in 350-degree fryer for 5 minutes.
Once cooked, toss the wings with the French's honey garlic sauce and serve immediately.