Consumers have always appreciated a good deal but as inflation rises and pockets are stretched, now is the time to re-evaluate how you present your deals. When it comes to dining out, many consumers know what they're willing to spend on their meal before they ever sit down. Giving patrons a clear cut cost for their meal is a great way to keep them coming back. Offering a bundle deal will help patrons to know exactly what it will cost to feed their family of four.
What are bundle deals?
Bundle deals have been around for a long time. You might be familiar with the fast-food experience of ordering a combo family meal. However, in recent years these bundle meals have been making their way into sit down restaurants across the country. Think 2 for $20. Or, if you want to get fancy, think about the 5-star restaurants that have been streamlining their costs for years. Many Michelin star restaurants will charge a flat rate per person and the chef will decide the meal. This is for a multitude of reasons but it can be helpful for avoiding LTOs and easily shifting your dinner menu when asparagus is out.
You might be asking yourself, "what's a good deal?" Well, from a two for twenty deal to a three-course meal, bundle deals can be a variety of combinations, as long as the price is perceived as lower than ordering a la carte, or the value is perceived as higher. You can easily increase the value of a bundle deal by adding upgrades for a price.
Bundling benefits operators AND the customer
If there's anything we know, it's that you want the most profitable items to be front and center on the menu. Taking your profitable items and bundling them into a deal can not only increase profits but it can also boost the customer experience. When customers feel as though they are getting more bang for their buck, they're generally just happier. Wouldn't you be?
Bundling can also save time and labor. Creating combinations that readily on hand and easy to put together can save your staff valuable prepping time and can keep your labor costs down. It's also smart to bundle items that are simpler to prepare. This will keep the back of house with more time to dedicate to complicated orders that may come in during a dinner rush.
Create urgency with deals
There's always something to be said about a limited time offer. It just feels a bit more special, and a little bit more in demand. A great way to create urgency with a bundle deals is to mix it up each month. Change the offerings that are bundled together on a regular basis and market them as exclusive and a limited time offering.
Combat Inflation
Bundling is an easy way to combat inflation as well. Using fixed pricing can help to keep profits at a comfortable percentage while swapping ingredients that are rising in cost. For instance, take a 2 for $30 meal bundle and change what is offered on that menu each week, as you know your cost. Keep ingredients that are readily available in those bundles and help offset rising costs.
Market your bundle deal!
Now here's the step that so many forget about. It's one thing to add this deal to your menu, or your front board, but you can't stop there! In order for a bundle deal to be successful you need to market it like it's going out of style! Use your social channels to quickly get the word out about your new bundle deals. SGC Operator Tip: Get creative. Don't be afraid to market your deals with funny short videos.
When it comes to bundle deals, don't be afraid to get creative with your offerings. Not every deal is going to be cookie cutter for each operation. If you are an upscale dinner service, a 2 for $30 deal may diminish the value of your establishment, so stick to a price per person bundle. Remember, bundle deals should be tailored to your brand and should fit with your vibe!
Recipes to Try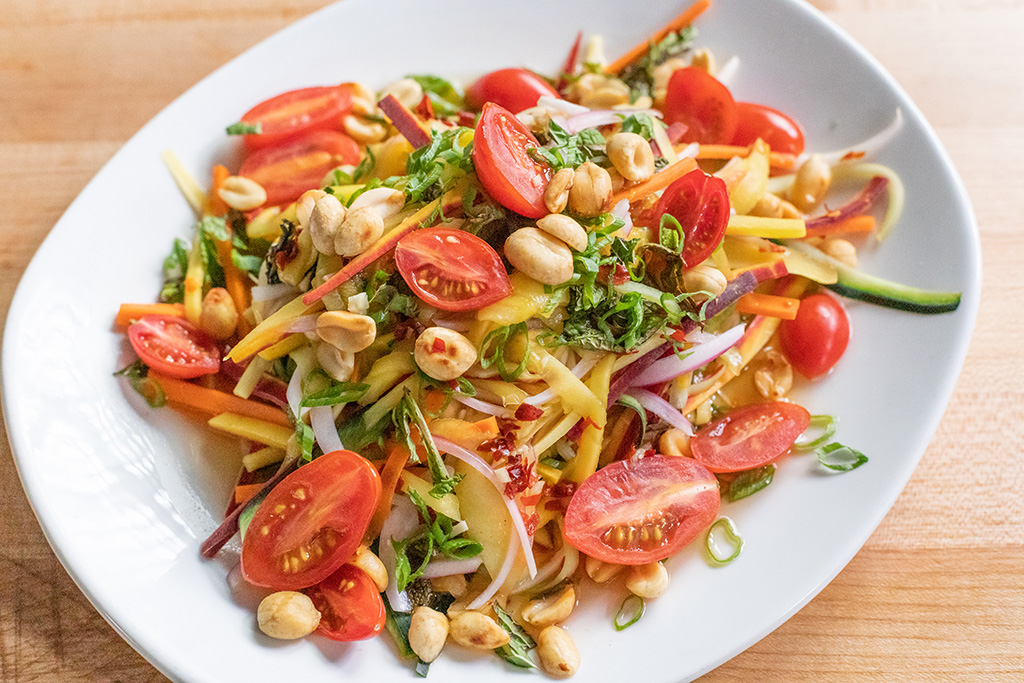 APPETIZER
Mango Thai Salad
Ingredients 
1 handful of granulated peanuts SGC# 141473
1-2 carrots SGC# 192195

1 cucumber SGC# 192336

1 mango SGC# 196550

1 bunch of fresh mint SGC# 193391

1 small red onion SGC# 192237
2 green onions SGC# 192014

1 handful of cherry tomatoes SGC# 191940
For the dressing: 
2 tablespoons fish sauce SGC# 056080

3 tablespoons rice wine vinegar SGC# 124936
1 lime SGC# 192625

2 tablespoons brown sugar SGC# 051755

1 clove of garlic SGC# 192922

1-2 fresh red or green chiles SGC# 088716
Instructions 
Preheat the oven to 350ºF
Place the peanuts on a tray, then place in the oven to roast until golden. 
For the dressing, mix the fish sauce, rice wine vinegar and 2 tablespoons of lime juice in a small bowl. Grate in the brown sugar, stirring, until completely dissolved.
Peel and finely chop the garlic, and add to the bowl. Taste to make sure the flavors are balanced: it should be zesty, sweet and fresh, with depth from the fish sauce. 
Coarsely grate or cut the carrots into matchsticks, then halve, de-seed and thinly slice the cucumber on an angle. Peel and finely grate or cut the mango into matchsticks, then pick and roughly chop the mint leaves. 
Peel and cut the onion into fine wedges, trim and finely dice the spring onions, then halve the tomatoes. 
Crush the roasted peanuts in a pestle and mortar. 
Add the chopped vegetables
Divide among serving plates and drizzle lightly with the dressing. Sprinkle with peanuts and serve.
MAIN ENTRÉE
Blue Cheese and Apple Burger
Ingredients 
1lb 80/20 Mill Street Ground Beef – SGC# 215000

1 soft round lettuce – SGC# 197046

1 bunch of arugula – SGC# 192523

2 apples – SGC# 191695

5oz blue cheese – SGC# 055558
olive oil – SGC# 053059

6 Rotella split top Brioche 4" buns – SGC# 216732

American mustard – SGC# 125301

Black pepper — SGC# 169540
Instructions 
Make the burgers at least an hour before you want to cook them. Divide the ground beef into four equal sized balls. Make them slightly bigger than your bun, as they will shrink when cooked. 
Pop them on a tray, cover with clingfilm and chill in the fridge. 
When you're ready to cook your burgers, get your toppings ready. Pick off, wash and spin dry the lettuce leaves, cut your arugula, slice the apples, crumble the blue cheese into chunks, and leave everything to one side. 
Preheat your grill to high. Pop a large non-stick frying pan over a medium heat and add a drizzle of oil to the pan. 
Fry the burgers for around 4 minutes on each side if you like them pink in the middle, or longer if you prefer them fully cooked, seasoning the patties with black pepper as you cook them. 
Halve and toast the buns under the grill or on a hot griddle, then line them up on a board ready to go. 
When the burgers are cooked, top each with the blue cheese and pop under the grill for a couple of minutes until nice and oozy. 
Now build your burgers. First layer the salad leaves and apple onto the buns, followed by a good drizzle of mustard. 
Pop the burgers on, and top with the arugula (a cucumber and chilli relish is great here too). Squish the bun tops on and serve straight away.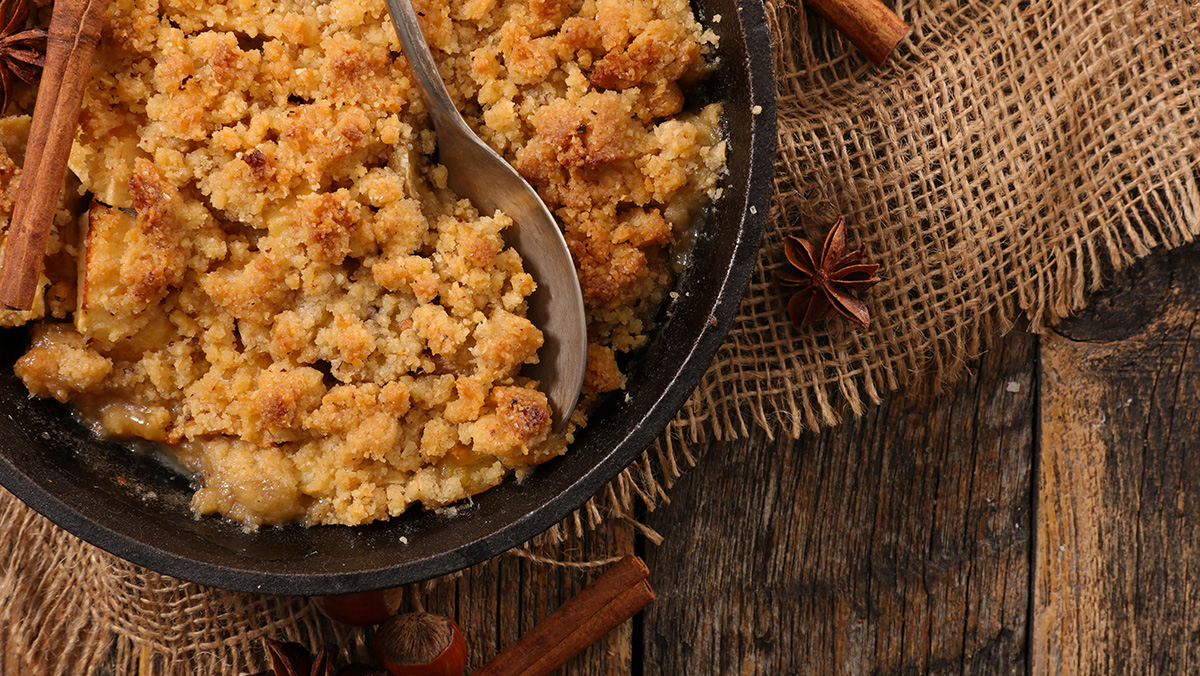 DESSERT
Apple Crisp
Ingredients
Filling
5 cups fresh apples, sliced SGC#191695

1/2 cup granulated white sugar SGC# 051755

1/2 tsp cinnamon SGC# 170084

1 teaspoon vanilla extract SGC# 169243
Topping:
1/2 cup all purpose flour SGC# 053330

1/3 cup old fashioned oats SGC# 058080

2/3 cup packed brown sugar SGC# 051755

1/4 tsp salt SGC# 052100

1/2 teaspoon cinnamon SGC# 170084
1/4 cup (1/2 stick) butter, melted SGC# 054130
Instructions
Preheat oven to 350 degrees. Grease a deep-dish pie plate or large baking dish with butter or cooking spray and set aside.

Combine the sliced apples with the sugar, cinnamon, and vanilla extract in a large bowl and mix until the apples are evenly coated. Pour into the prepared baking dish.

In a separate medium size bowl, combine the flour, oats, brown sugar, salt, and cinnamon. Pour in the melted butter and stir until well coated and crumbly. Sprinkle the crumb mixture evenly over the top of the apples.
Bake in the preheated oven for 45-60 minutes until fruit is soft and the topping is golden brown. Allow to cool slightly before serving. Serve warm with vanilla ice cream on top.