Pick up any menu these days, and you're sure to find global flavors in abundance. Simply put, borders no longer exist when it comes to taste. And as operators look to attract new diners, they're turning to these worldly inspired cuisines to capitalize on the demand. So, what's driving this desire for diversity? Here are a few reasons for the continuing trend:
Younger diners, who were likely introduced to worldly flavors at a younger age, tend to have more adventurous palates.

With travel curtailed during the pandemic, there is pent-up demand for new and diverse experiences.
Easier access to a wider range of foods has broadened the tastes of consumers.

The general population is becoming more diverse. The growth of people entering the country has surpassed the number of people born here. And Generation Alpha, or those born after 2010, is the most racially diverse generation in our country's history. Culinary preferences, therefore, are shifting to mirror this change.
The United States is a gathering ground of world populations, and its menus are wonderfully complex microcosms of the diversity that defines the nation. In the best melting pot tradition, ingredients and techniques don't always stay authentic or 100% true to origins, cultures, and customs but instead are adapted and contemporized by different influences, ingredients, and culinary prompts.
Just as American cuisine is a work in progress, so too are mixed-and-matched-up menus that keep offerings fresh, exciting, and in touch with a full array of diners. And while it's that kind of creativity that stirs menu innovation, a practical approach plus an eye toward ingredients already counted among on-hand inventory help make global do-able. Many familiar items—from stews, tacos, and rice, to salads, sandwiches, and beverages—can easily go from now to wow. Different spicing, the swap out of a handful of ingredients for a few others, and changing techniques often are enough to bring foreign intrigue and a sense of fun to the familiar.
Here are some easy East meets West culinary mashups that, authentic or not, make delicious sense:
Lamb curry burrito with rice, cucumbers, tomatoes, cabbage, and mint chutney

Maine lobster and mango topped with melted lardo and hoja santo leaves
Porchetta sandwich with green curry, asparagus, and Asian tong ho greens

Cuban-style pork bowl with coconut milk-braised callaloo, chipotle sweet potatoes, and curry-miso sauce

French onion soup with poblano peppers, Gruyère cheese, and crostini
Pierogi-style dumplings filled with coconut, urad dal, and chiles de arbol

Steak tartare with pickled jalapeño chilies, cilantro, capers, guacamole, chipotle aioli, poached egg, and baguette

Beef pho with costillas de res (pork ribs), corn, potatoes, yucca, plantains, rice noodles, herbs, bean sprouts, and jalapeño chilies

Frittata with squash, Argentinian locro stew, wakame seaweed, and miso
Making Mix-and-Match Right
Spice trades are an easy way to transform a classic dish into something more exotic. Curry blends, za'atar, berbere, garam masala, and jerk seasoning are just for starters

Acidic ingredients also can shift flavor perspectives. Yuzu, calamansi, satsuma, and blood orange are among the juices to consider. Likewise, coconut vinegar, palm vinegar, and Chinese black vinegar also add subtly different tang

Curry leaves, kaffir lime, parilla, methi leaves, rau ram, and hoja santa are among the options that add fresh herbal distinction

Hot sauces vary not just in heat levels but also in flavor profiles. Gochujang, sriracha, Thai sweet chili sauce, sambal, habanero sauce, shatta, and nuoc cham all heat things up a little differently
World Flair
Some operations set their sights on one cuisine and stay laser-focused, introducing diners to new ingredients, flavors, techniques, and excitement. These up-and-coming world cuisines, along with a representative dish culled from restaurant menus, can spark ideas for nearly any menu:
Afghan Aushak: Leek-filled dumplings topped with ground meat sauce and garlicky yogurt

Egyptian Koshari: A bed of lentils and rice with pasta, chickpeas, tomato sauce, and fried onions

Ethiopian Ater Kik: Yellow split peas in curried sauce with garlic, ginger, and onions
Indonesian Char Kway Teow: A street-food classic with wok-fried rice noodles, shrimp, fish, chicken sausage, chili, sprouts, and egg

Senegalese Bissap: Juice of hibiscus flower with anise, vanilla, and mint

Syrian Muhammara dip: Red pepper purée with walnuts, cumin, and pomegranate molasses
Recipes to Try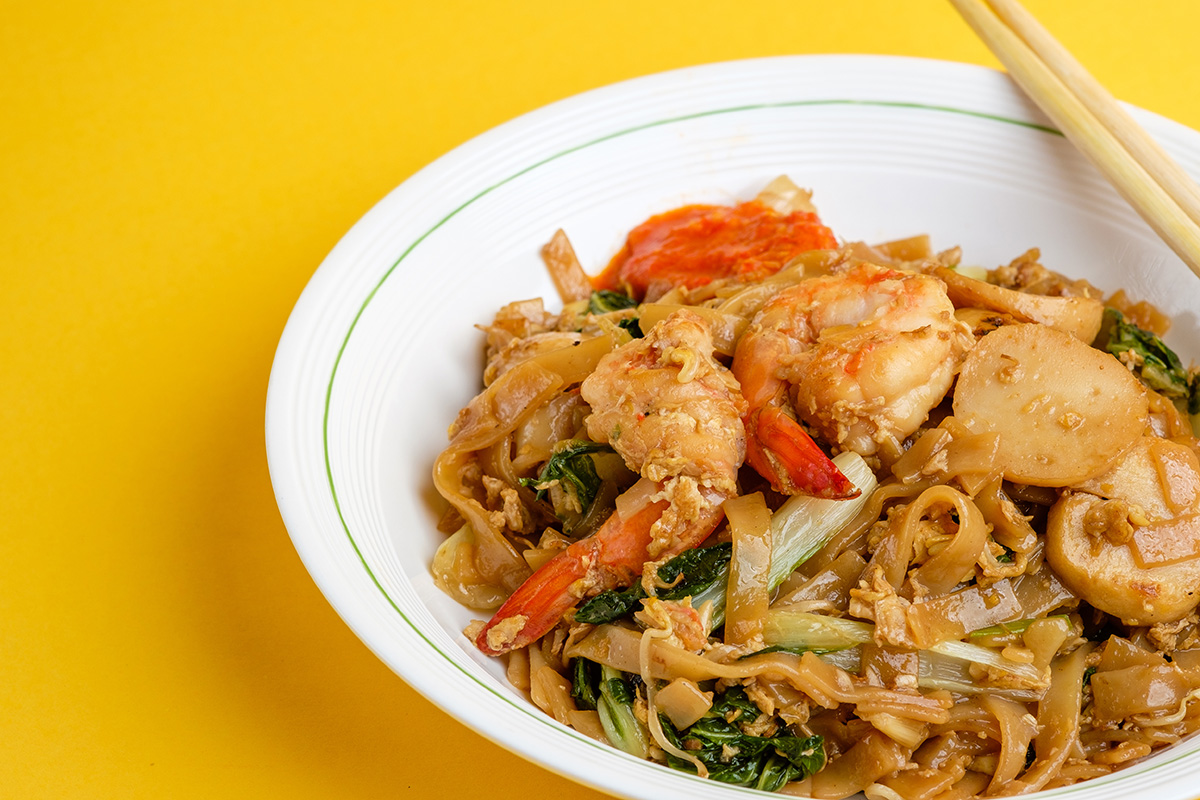 Indonesian Char Kway Teow
Ingredients
500 g / 1 lb fresh wide rice noodle

2 tbsp lard (or vegetable oil)

2 tbsp vegetable oil

10 small prawns/shrimp , (shelled and deveined)

2 garlic cloves , finely chopped

1 Chinese sausage / Lup Chong Sausage , sliced thinly on the diagonal

5 cm / 2" piece of fried fish cake , sliced thinly

20 stems garlic chives , cut into 4 pieces

2 1/2 cups bean sprouts

2 eggs , whisked
For the sauce
5 tsp dark soy sauce

4 tsp light soy

2 tsp oyster sauce

4 tsp kecap manis / sweet soy sauce
Instructions
Mix Sauce together.
Do not attempt to pull noodles apart while cold and hard - they break.
Place whole packet in microwave, heat on high for 1 1/2 minutes - 2 minutes until warm and pliable, not hot, turning packet over as needed.
Handle carefully and measure out 500g/1 lb. noodles into a heatproof bowl. Separate noodles stuck together.
If noodles become cold and brittle before cooking, cover with cling wrap and microwave for 30 seconds to make warm (not hot, just warm) to reduce breakage.
Heat 1 tbsp oil in a large nonstick skillet over high heat.
When heated, add shrimp and cook for 1 1/2 minutes until just cooked through, then remove into bowl.
Add Chinese sausage and fish cake, and cook for 1 minute until sausage is caramelized, then add to bowl.
Add 1 tbsp oil then add egg and cook, pushing in the edges to make a thick omelet. Once set, chop it up roughly using a wooden spoon, then add to bowl.
Add bean sprouts and cook for about 1 minute until just starting to wilt, then add to bowl.
Add lard. Once melted and starting to smoke, add garlic then immediately add noodles. Fold gently 4 times using a spatula & wooden spoon just to disperse oil through noodles.
Tip all the other ingredients back in plus the chives. Fold gently twice, then pour all the Sauce over.
Gently toss 4 to 6 times to disperse the sauce, pausing in between to allow the noodles to have a chance to caramelize on the edges a bit.
Remove from stove and serve immediately.