Some folks may prefer to have Thanksgiving at home. However, others will undoubtedly search for what restaurants serve at Thanksgiving dinner. They might want to pay a visit to a local restaurant that features Thanksgiving specials. That is your chance to make sure your restaurant becomes their new favorite spot in town!
Not everyone wants to spend long hours in the kitchen to feel the holiday spirit. Whether customers want to dine out or order in, restaurant owners should prepare Thanksgiving restaurant promotions ahead of time, and we have some ideas on how you can make the most of this holiday.
Create Thanksgiving Restaurant Specials
Have a classic Thanksgiving menu, including roasted turkey, mashed potatoes with gravy, and some vegetables if you want a nostalgic vibe. Feature some holiday classics like sweet potato or green bean casserole. You can also get creative with restaurant special ideas that are on the healthy side, such as green beans or fitness-friendly versions like broccoli or Brussels sprouts. Offer seasonal dessert options such as pumpkin and pecan pie or a cinnamon apple cobbler.
Offer Thanksgiving To-Go Food
Those who don't want to cook but still want to enjoy dinner at home will be looking for restaurants that offer Thanksgiving food to go. Creating a Thanksgiving take out menu will allow you to expand your target audience. Many restaurants and supermarkets have begun offering prepared Thanksgiving meals, making it essential to advertise your menu items early and offer top-quality food.
Thanksgiving Brunch Menu Ideas
Dinner or lunch is not the only option for a festive Thanksgiving. Since some restaurants open late for this holiday, they could make a compromise and focus on a thematic brunch. The Thanksgiving brunch menu could include a frittata served with cranberry sauce, sweet potato quiche, pumpkin muffins, and coffee. Don't forget to feature Thanksgiving brunch items like waffles, pies, and mini bagels.
To stand out, come up with unique Thanksgiving Day specials to satisfy even the pickiest of customers. Customize your Thanksgiving restaurant menu to make everyone feel at home. From a traditional meal that reminds customers of home, to a modern feast that friends can share. Serve Thanksgiving-themed food like apple French toast casserole or cranberry kale salad with candied pecans and feta, topped off with fall-themed beverages like a to-die-for maple pecan latte.
Take Reservations
Since there aren't many restaurants open on Thanksgiving, it's not a bad idea to take Thanksgiving restaurant reservations, even if this is not how you regularly operate. This way, you avoid putting extra pressure on your staff in the kitchen.
The most crucial concept to remember is to use multiple channels (website, social media, print, TV ads) to reach your target audience and let them know. Patrons switch between these, and your offer should be everywhere if you hope to get noticed.
If you spread the word about your Thanksgiving restaurant promotions in advance, expect the place to be fully booked. Since you don't want to disappoint your customers by not having a table for them when they arrive on Thanksgiving Day, recommend them to reserve a table. That way, you'll know how many people to expect, and they'll know their table will be ready for them when they arrive.
This may sound like a no-brainer, but since most establishments are closed on Thanksgiving, it's essential not only to be open during the day but to cater to early or delayed customers as well. People will be looking for restaurants open late on Thanksgiving, and that's your time to shine. Let everyone know you'll be open on your website and social media accounts.
Recipes to Try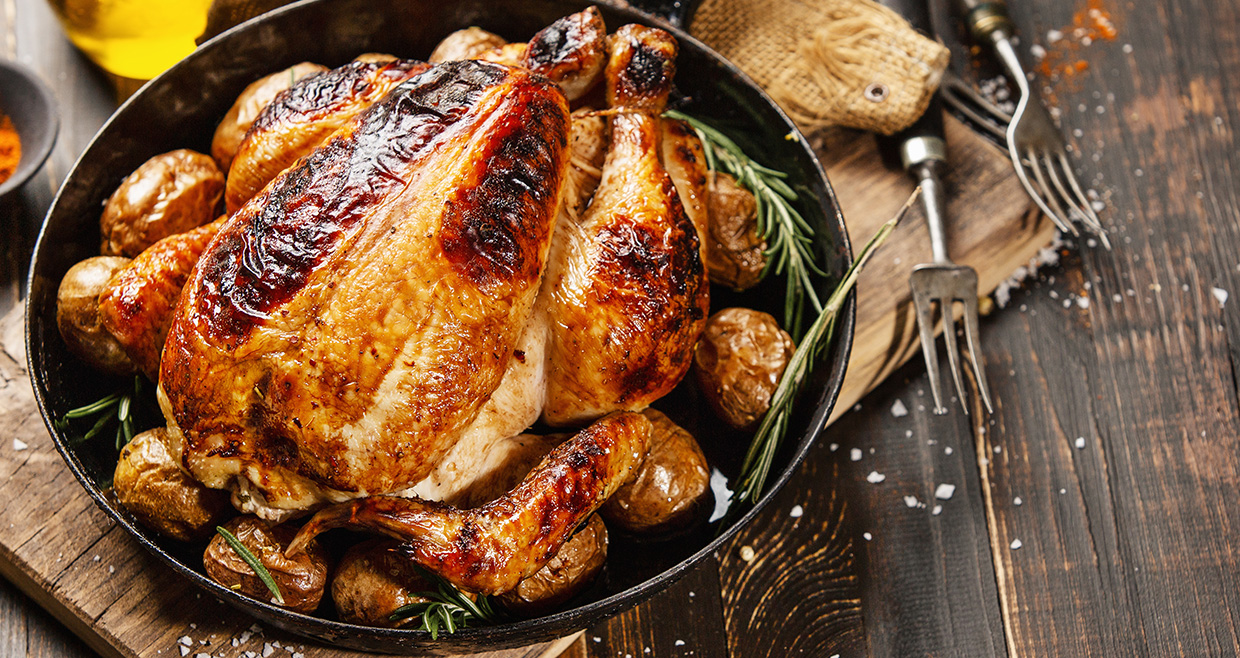 Garlic Herb Butter Roasted Turkey
Ingredients
Roast Turkey:
12 pound (6 kg) whole turkey, skin on (fully defrosted, washed, giblets and neck removed)

3 heads garlic cut in half horizontally divided

3 slices lemon divided

6 sprigs thyme divided

6 sprigs rosemary divided

1/2 cup olive oil divided
Herb Butter:
4 ounces (125 g) unsalted butter

1 teaspoon chopped fresh thyme leaves or 1/2 teaspoon dried thyme

4 teaspoons minced garlic

Salt

Cracked Pepper
Instructions
Preheat oven to 425°F | 220°C for standard ovens, or 390°F | 200°C for fan forced. Lower oven shelf to the lowest part of your oven.
Combine the Herb Butter ingredients in a bowl and mix well. Reserve half of the herb butter in the refrigerator for later.
Line a large roasting pan with foil or parchment paper. Arrange the 4 halves of garlic cut-side down on the bottom of the pan with 4 sprigs each of thyme and rosemary, half of the olive oil and 1 slice of lemon.
Thoroughly pat turkey dry with paper towels. Stuff with the remaining heads garlic halves, lemon slice, a squeeze of lemon from remaining slice, herbs and a drizzle of olive oil.
Melt the butter and rub all over the turkey, including under the skin. Season generously all over with salt and pepper. Place turkey on top of the garlic and herbs in the pan breast-side down. Drizzle with the remaining oil.
Roast uncovered for 30 minutes for a small turkey under 13 pounds (6 1/2 kg), or 45 minutes for a larger turkey over 14 pounds (7 kg plus).
Turn turkey over breast-side up with a pair of tongs or heat-proof gloves and baste with pan juices.
Spread half of the reserved herb butter over the top of your turkey with a spoon or brush (be careful, the turkey will be hot and the butter will melt nicely over the skin). Pour any remaining juices over your turkey.
Reduce heat to 325°F |165°C (for standard ovens), or 300°F | 150°C (fan-forced). Roast, uncovered, for an hour.
Slather turkey generously with remaining butter and roast for 30 minutes. Baste again, then continue roasting for a further 30 minutes or so, depending on the size. Tent loosely with foil if starting to brown too fast.
For extra crispy skin, broil (or grill) in the last 5-10 minutes, keeping your eye on it so it doesn't burn, until the skin is crispy and golden browned all over.
Tent turkey with foil and allow it to rest for 20-30 minutes before carving and serving.
Remove 2 1/2 cups of the liquid from the pan juices (top up with stock if you need too), strain and reserve for your gravy.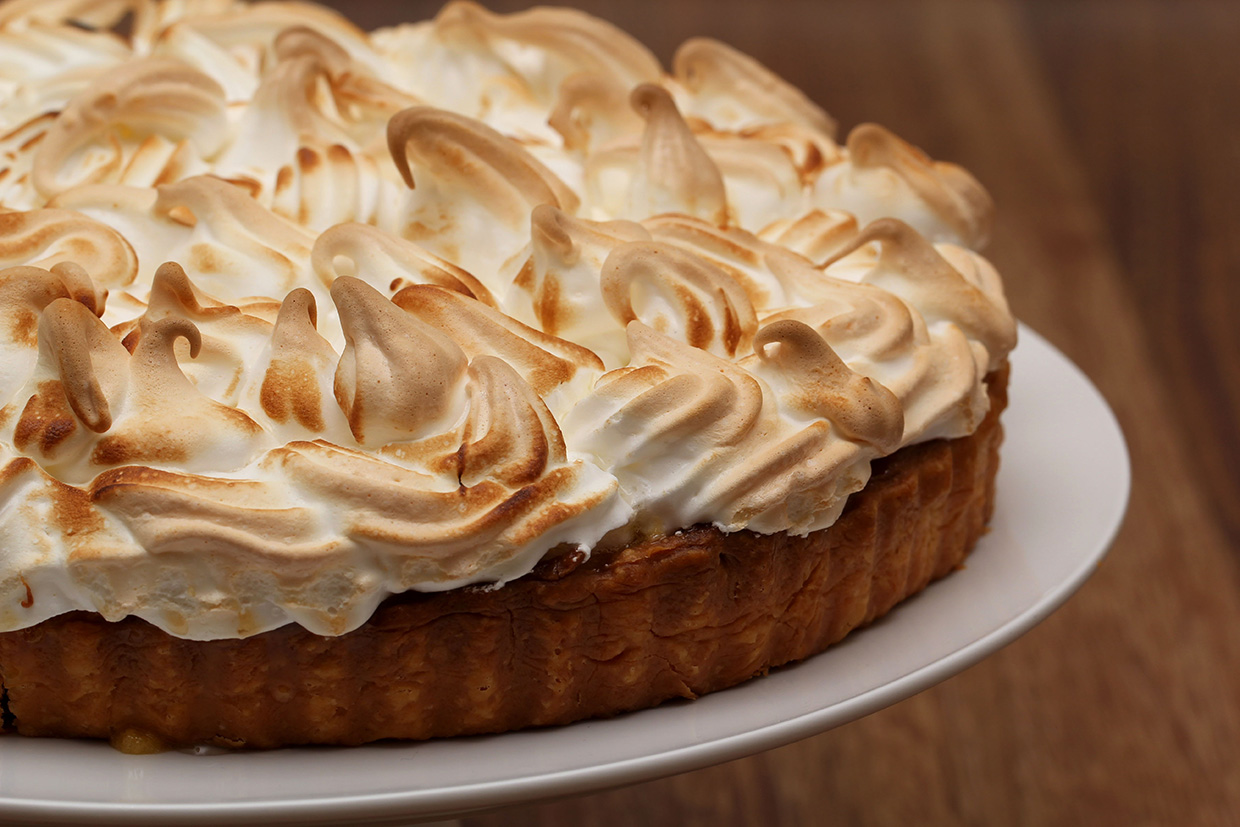 Milk and Honey Pie
Ingredients
For the crust:
1 Tbsp. Sugar

1½ tsp. Diamond Crystal or ¾ tsp. Morton kosher salt

1½ cups (188 g) all-purpose flour, plus more for dusting

12 Tbsp. (1½ sticks) chilled unsalted butter, cut into ½" pieces
For the honey pudding:
¾ cup honey

⅓ cup (45 g) cornstarch

¾ tsp. Diamond Crystal or ½ tsp. Morton kosher salt

5 large egg yolks

2 large eggs

1½ cups whole milk

1 cup heavy cream
For the milk meringue:
¼ cup (35 g) nonfat milk powder

1 Tbsp. Cornstarch

1 cup (200 g) sugar, divided

5 large egg whites

¼ tsp. kosher salt
Instructions
Whisk sugar, salt, and 1½ cups (188 g) flour in a medium bowl. Add butter and toss to coat and distribute. Using your hands and working quickly, rub and smash butter into flat irregular pieces. (Be careful not to overwork; you don't want to soften the butter too much. Just make sure you smash each piece at least once.) Drizzle ⅓ cup cold water over and mix with a rubber spatula, smashing in butter, until dough mostly comes together; it will be dry and shaggy.
Turn dough out onto a lightly floured surface. Gather dough into a rough 1½"-thick square. Lightly flour dough and gently press and roll out to a ½"-thick square. Fold dough in half, then in half again to make a square. Repeat rolling and folding process 2 more times. Pat dough into a disk, wrap tightly in plastic, and chill at least 2 hours.
Dust dough with flour and place on a lightly floured surface. Using rolling pin, gently press out dough while rotating until just under 1" thick. Lightly flour both sides of dough and continue rolling out, stopping often to turn dough and flour, to a 13"–14" round about ⅛" thick. Brush off excess flour on both sides. Fold dough in half, then in half again, and transfer to a 9"-diameter pie dish. Unfold into dish and lift edges to allow dough to slump into dish. Gently press into dish. Using kitchen shears or a small, sharp knife, trim off any excess dough so you have about 1½" overhang. Fold overhang under dough and crimp edges as desired. Chill in freezer at least 1 hour.
Place a rack on the lower third of oven; preheat to 350°. Line crust with 2 layers of foil, making sure to cover edges. Fill with pie weights or dried beans (go all the way to the top). Set on a baking sheet and bake 1 hour. Transfer to a wire rack and let cool 15 minutes.
Remove pie weights and foil. Use the same foil to cover edges of crust, leaving sides and center exposed. Return to oven and bake until golden brown, 25–30 minutes. Transfer to rack and let cool.
Do ahead: Dough can be made 3 months ahead; cover and keep frozen. Thaw at room temperature 1–2 hours or in the fridge overnight before using. Crust can be baked 3 days ahead; store tightly wrapped at room temperature.
For the honey pudding:
Whisk honey, cornstarch, and salt in a medium saucepan until smooth. Add egg yolks and eggs and whisk until well combined. Stream in milk and cream, whisking until incorporated. Cook over medium-high heat, whisking constantly, until mixture thickens and begins to bubble, about 5 minutes. As soon as you see that first bubble, set a timer and simmer 1 minute. (This ensures that the cornstarch is fully hydrated and a protein-dissolving enzyme found in eggs is deactivated.) Pour into pie crust; smooth surface.
For the milk meringue:
With rack still in lower third of oven, preheat oven to 350° if needed. Pulse milk powder, cornstarch, and 2 Tbsp. sugar in a spice mill or blender until fine; set aside.
Pour water into a clean medium saucepan to come 2" up sides; bring to a simmer over medium heat. Whisk egg whites, salt, and remaining sugar in the bowl of a stand mixer just to combine. Set over pan of simmering water and cook, stirring and scraping bottom and sides constantly with a heatproof rubber spatula, until warm to the touch and sugar is dissolved, 5–7 minutes. Fit bowl back on stand mixer, attach whisk, and beat mixture on high speed until thick and fluffy and meringue balls up inside whisk, about 4 minutes. Reduce speed to low; sprinkle reserved milk powder mixture over and beat just to combine.
Using a spoon, pile meringue over pudding and spread to edges, creating big swoops and swirls. Place in oven and immediately reduce heat to 250°. Bake until meringue is golden brown and crisp on the outside but still soft on the inside, about 75 minutes. Chill 3 hours before serving. Slice with a barely damp serrated knife for clean portions.
Source: Gloria Food