While dessert for some diners remains in the back of their mind, others save space just to top off their meal with something sweet. Offering a sweet treat not only gives another opportunity to wow your diners and attract more diners. Creating or maintaining the perfect dessert menu takes a little time and thought but we have a few tips that can aid you in the process.
Include desserts that make sense for your restaurant
While desserts are a great addition to any menu, they are still an investment that must make sense for your restaurant. Understanding what sweets pair well with your other menu items and also fall in a price window that matches the rest of the diner's experience will help make dessert a success.
Offer Variety
We know you have put a lot of thought and work into creating a menu that can satisfy the different tastes and moods of a variety of diners and your dessert menu should be no exception to this. Whether your dessert menu is one signature offering or an array of options, you can fine-tune to be sure any diner with a sweet craving will be able to enjoy it.
For a smaller dessert menu keep in mind:
You can add variety by having a simple dessert item like a signature cake or ice cream that can allow for different toppings and additions for diners to choose from like fresh fruits, sweet syrups, nuts, etc., making space for any taste.
For a larger dessert menu keep in mind:
You have more room and opportunity to provide a dessert option for any diner. Try to make the most of this by including options completely different from one another. Instead of offering all chocolaty and decadent options, consider adding in recipes that give a tangy citrus taste or sugary spice pop.

You can really attract more diners by offering a dessert menu that caters to the growing demand of diners looking for options that are vegan/vegetarian, more health conscious, and gluten-free.
Offer sweets that match the season
Take inspiration from different times of the year and events happening that diners love to spice up any dessert menu and add extra appeal to diners. Some examples of these types of offerings are:
More cool and refreshing treats or desserts like ice cream and sorbet during the sunny summer months.

Finger food desserts that can be shared during holiday seasons that frequent more group reservations.

Regional specialties that locals will love and know and that travelers want to try to dive into culture during high seasons like summer.

Holidays-specific treats, like adding a decadent Christmas-inspired treat whether you have a Christmas menu or not.
Recipes to Try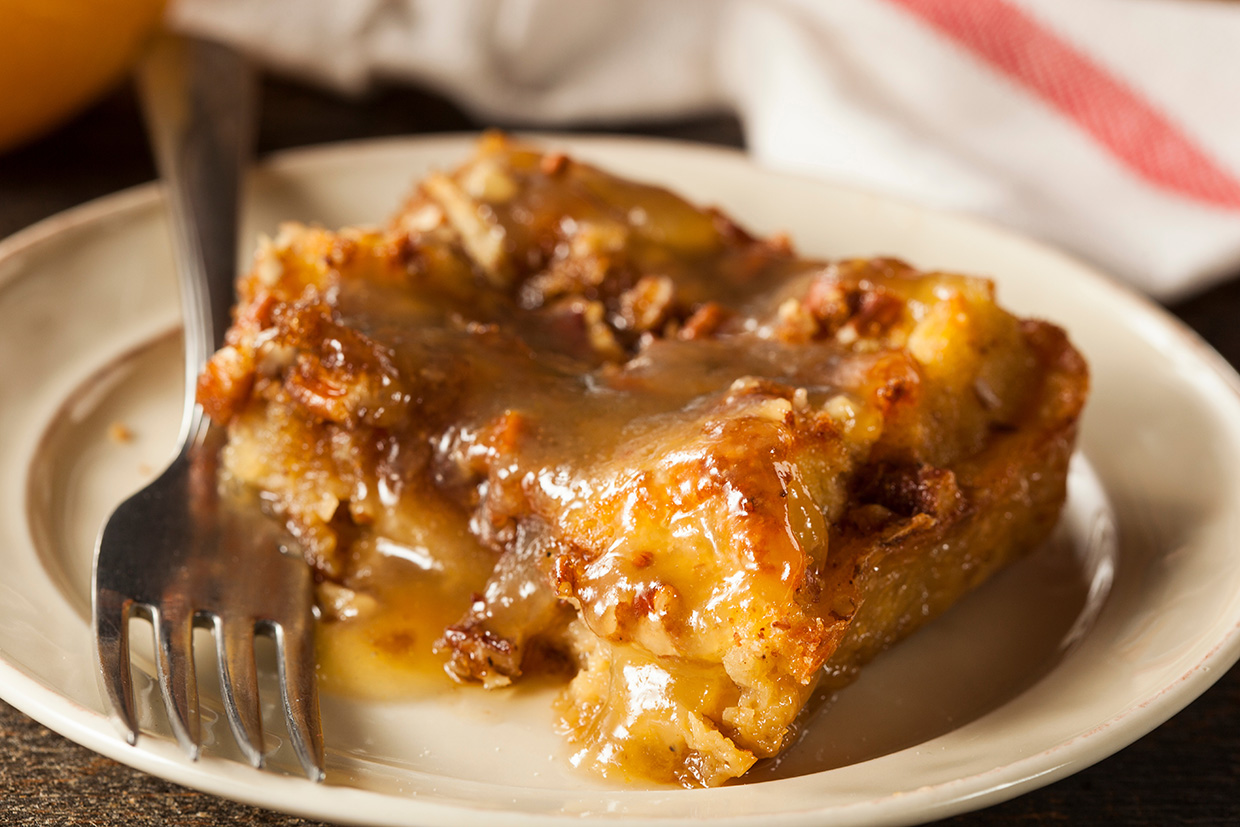 Maple-Bourbon Banana Pudding Cake
Ingredients
6 tablespoons unsalted butter

1/2 cup superfine sugar

1 overripe banana, mashed

1 large egg

1 cup whole milk, at room temperature

1 cup all-purpose flour

1 tablespoon baking powder

Pinch of salt

3/4 cup pure maple syrup

1/2 cup light brown sugar

2 tablespoons bourbon

1/4 cup finely chopped pecans

Vanilla ice cream, for serving
Directions
Preheat the oven to 375°. In a deep, 2-quart baking or soufflé dish, melt the butter in the microwave. Whisk in the superfine sugar and banana, mashing until thoroughly combined. Whisk in the egg and milk.

In a bowl, whisk the flour, baking powder and salt; whisk into the baking dish until combined (the batter will be pretty loose).

In a microwave-safe cup, heat the maple syrup, light brown sugar and 1/2 cup of hot water at high power until hot, 1 minute. Add the bourbon. Drizzle the syrup mixture over the batter; it will seep to the bottom. Do not stir. Scatter the pecans on top.

Set the dish on a rimmed baking sheet and bake for 40 minutes, until the cake is golden. Let cool for 5 minutes, then scoop into bowls and serve with ice cream.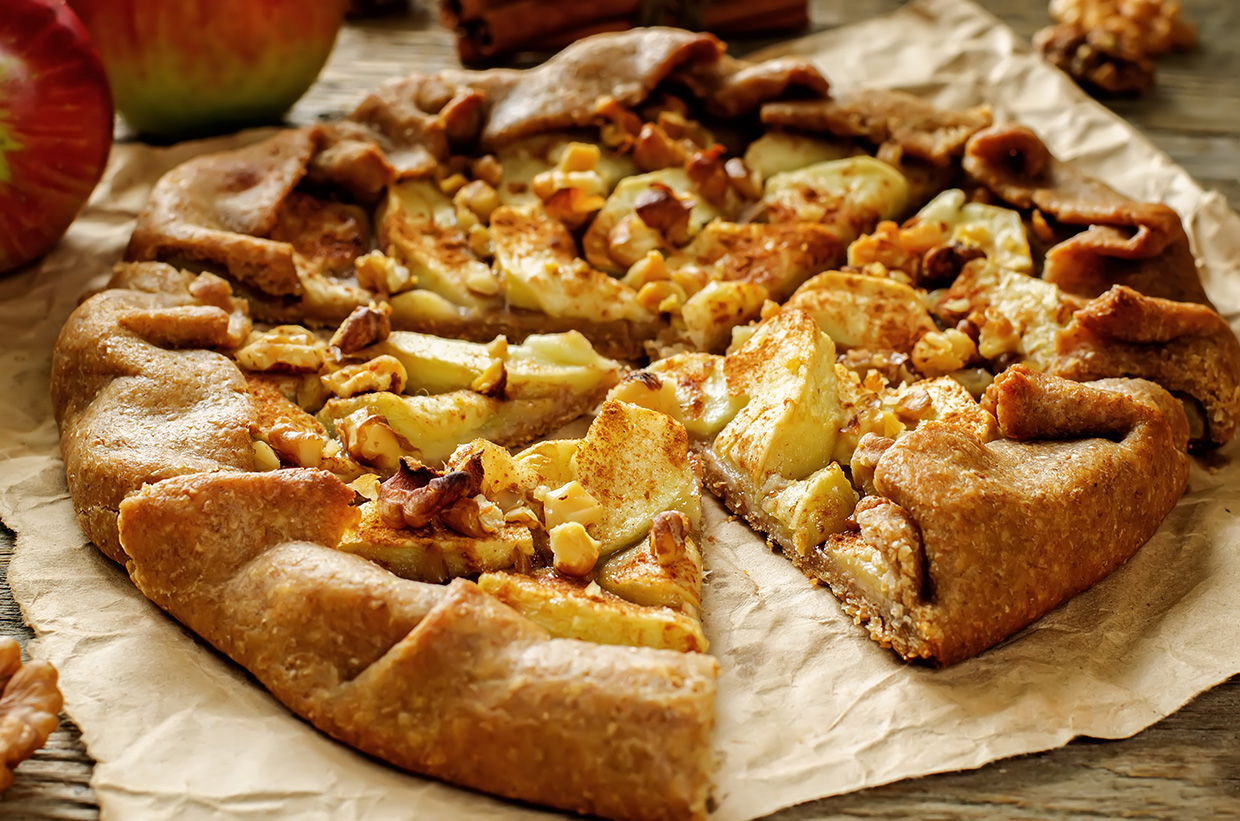 Apple and Pear Galette with Walnut Streusel
Ingredients
Crust
2 cups all-purpose flour, plus more for rolling

3/4 teaspoon kosher salt

1 1/2 sticks cold unsalted butter, cubed

1/2 cup ice water
Streusel
2/3 cup walnuts

1/2 cup all-purpose flour

1/2 cup packed light brown sugar

1/2 teaspoon kosher salt

6 tablespoons cold unsalted butter, cubed
Filling
2 Granny Smith apples—halved, cored and thinly sliced lengthwise

2 firm Bartlett pears—halved, cored and sliced lengthwise 1/4 inch thick

1/4 cup granulated sugar, plus more for sprinkling

1/4 teaspoon kosher salt

2 teaspoons fresh lemon juice

1 large egg beaten with 1 teaspoon water

Confectioners' sugar, for dusting (optional)
Directions
Crust
In a food processor, pulse the 2 cups of flour with the salt. Add the butter and pulse until the pieces are the size of small peas. Sprinkle the water on top and pulse until the dough just comes together. Turn the dough out onto a work surface, gather up any crumbs and pat into a disk. Wrap in plastic and refrigerate until well chilled, 1 hour.
Streusel
Preheat the oven to 400°. Spread the walnuts in a pie plate and bake for about 8 minutes, until lightly browned. Let cool, then chop.

In a medium bowl, whisk the flour with the brown sugar and salt. Add the butter and, using your fingers, pinch it into the dry ingredients until the mixture resembles coarse meal. Add the walnuts and pinch the streusel into clumps. Refrigerate until chilled, about 15 minutes.
Filling
Line a rimmed baking sheet with parchment paper. In a large bowl, toss the apples with the pears, 1/4 cup of granulated sugar, the salt and lemon juice. On a lightly floured work surface, roll out the dough to a 19-by-13-inch oval. Ease the dough onto the prepared baking sheet. Mound the filling in the center of the oval, leaving a 2-inch border. Sprinkle the streusel evenly over the fruit and fold the edge of the dough up and over the filling.

Brush the crust with the egg wash and sprinkle evenly with granulated sugar. Bake the galette for 45 to 50 minutes, until the fruit is tender and the streusel and crust are golden brown. Let the galette cool. Dust with confectioners' sugar, if using, before serving.