TikTok has been the starting block for many trends these last couple of years. If you're no stranger to the app, you may have seen dance challenges, couple's question challenges, or some wholesome videos with cute animals. TikTok has also been the source of endless new food trends and recipes that have helped at-home cooks step up their game.
When a new recipe goes viral on TikTok, it makes the entire internet want to try it out for themselves. Let's explore how TikTok influences the food scene and what we can expect to make us jump in the kitchen this year.
The TikTok Influence
TikTok, the fast-growing social media platform popular with teenagers, is apparently having a significant influence on where its users eat. 36% of TikTok users have ordered from a restaurant after seeing a video about it on the platform. More than 65 million Americans actively use TikTok every month, scrolling through an endless stream of light-hearted or funny videos that are served up by an algorithm to reflect their interests. And what happens in the app can sometimes have an impact outside of it. In March, a pasta recipe that spread quickly on TikTok led to a feta cheese shortage.
Key factors driving those decisions are the food itself, particularly unique items. Fifty-five percent of users reported that they had visited a restaurant from TikTok because the food looked appetizing, and 51% went because they saw a unique menu item. Others were enticed by a "cool atmosphere" (38%), an exciting presentation (36%), or a great view (29%). The app's influence on dining behavior is not necessarily related to convenience. Some users said they had traveled great distances to eat something they'd seen on the app. One-fifth have gone to a different city, and 16% have gone to another state to visit a restaurant from the platform.
Viral Dishes
Crispy Garlic Parmesan Accordion Potatoes: These potatoes are baked until the outside is golden and crispy, and every bite is packed with flavor. If you want a side dish with extra crunch, skewer the potatoes before cooking them. There's a bit of a learning curve to this recipe when learning how to slice the potatoes correctly, but once you've perfected it, you'll be looking for any excuse to make a batch.

Pesto Eggs: With this recipe, you simply fry an egg in the pesto of your choice, and once it's cooked, layer it on a slice of your favorite toasted bread along with some ricotta and sliced avocado. Finish with a drizzle of warm honey and a sprinkling of chili flakes for a restaurant-quality breakfast any day of the week.

Ricotta Toast: Made with toast slathered in ricotta cheese and topped with anything from thinly sliced prosciutto to fresh berries, it's a dish that anyone can make with ease. Lizzo participated in this trend, creating two versions using vegan ricotta: one topped with sauteed cherry tomatoes and arugula, and the other with a drizzle of honey.

Spicy Vodka Pasta: A dish more commonly known to Italian food lovers as penne alla vodka minus the pancetta. It's uncomplicated yet elegant, perfect for a hearty weeknight meal or when you want to impress guests at your next dinner party.

Corn Ribs: Take your corn to the next level! Cut each cob into quarters lengthwise, then brush them with a mixture of olive oil and an assortment of spices, including chili powder and smoked paprika. Whether baked, grilled, or fried, they're a delicious complement to any meal or even a main barbecue dish for the vegetarians and vegans in your life.

Smoked Queso Dip: This recipe elevates the Tex-Mex favorite by not only adding chorizo, jalapenos, and an assortment of cheeses to the usual Velveeta and Ro-tel base, but it's also cooked to perfection on a grill or in a smoker. Serve the dip with tortilla chips as an appetizer at your next family barbecue, or head outdoors and fire up the grill whenever you have a craving.

Custard Toast: For a healthy breakfast that tastes as decadent as dessert, custard toast is the TikTok recipe trend for you. Making it even more of a must-try is the fact that you only need a few ingredients. The custard is made with Greek yogurt, egg, and either maple syrup or honey. You then place the mixture atop slices of thick-cut bread before popping the toast into the air fryer. Customize it with almost anything your heart desires, like sliced strawberries, a handful of blueberries, or even chocolate chips.

Turkish Eggs: One of the biggest TikTok food trends of 2022 has been the rise of Turkish eggs, a savory and decadent burst of flavor that involves setting poached eggs atop a bed of garlicky goodness—and by "goodness," we mean Greek yogurt and lots of peppery, herbed butter or oil. It's a great break from the sugary sweet brunch dishes we're used to seeing, so it's no wonder why this one has taken over our feeds.

Pasta Chips: Instead of adding sauce to your cooked pasta, spread the noodles onto a baking sheet with olive oil and seasoning. You'll bake it in the oven and toss it around about halfway through. Follow this up by dipping your pasta chips into a cheese sauce, marinara, or the dip of your choice.
Recipes to Try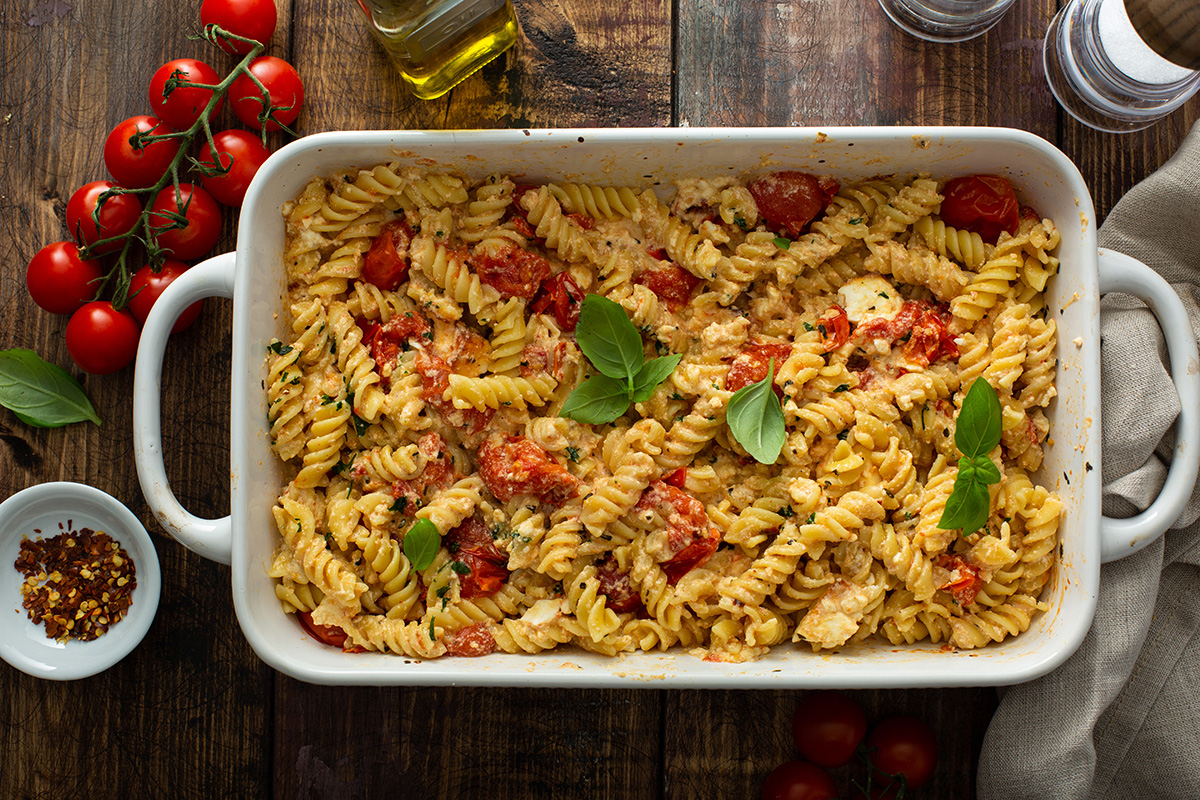 Baked Feta Pasta
Ingredients
2 pt. cherry or grape tomatoes

1 shallot, quartered

3 cloves garlic, smashed

1/2 cup extra-virgin olive oil, divided

Kosher salt

Pinch crushed red pepper flakes

1 (8-oz.) block feta

3 sprigs fresh thyme

10 oz. pasta

Zest of 1 lemon (optional)

Fresh basil, for garnish
Instructions
Preheat oven to 400°. In a large ovenproof skillet or medium baking dish, combine tomatoes, shallot, garlic, and all but 1 tablespoon oil. Season with salt and red pepper flakes and toss to combine.

Place feta into center of tomato mixture and drizzle with remaining 1 tablespoon oil. Scatter thyme sprigs over tomatoes. Bake for 40 to 45 minutes, until tomatoes are bursting and feta is golden on top.

Meanwhile, in a large pot of boiling salted water, cook pasta until al dente according to package directions. Reserve ½ cup pasta water before draining.

To skillet with tomatoes and feta, add cooked pasta, reserved pasta water, and lemon zest (if using) and stir until combined. Garnish with basil.