Breakfast is arguably the most important meal of the day, so why should it sit on the back burner when it comes to your menu? 40% of consumers say they eat brunch at least once a week, and that's reason enough to take a hard look at the brunch game. We'll take you through the top 8 brunch trends that just might find a spot on your menu!
1. Brunch Boards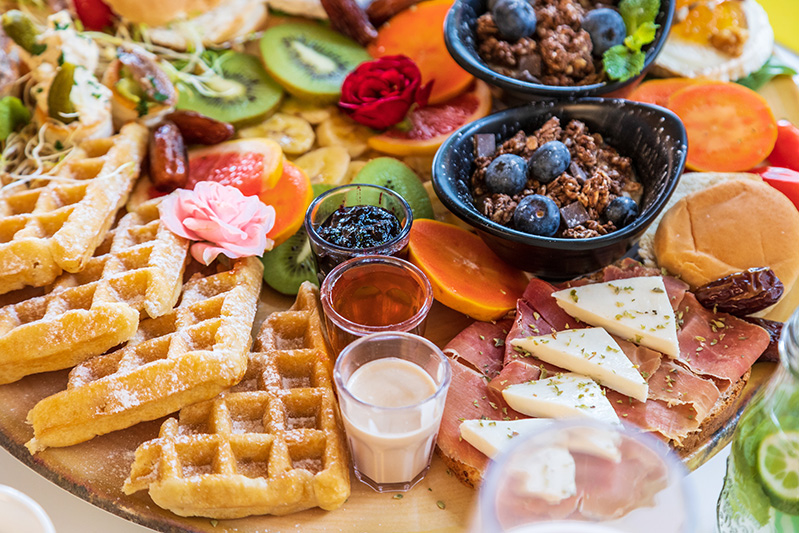 Similar to a charcuterie board, brunch boards are made by piling a plethora of snacks onto a board. However, the brunch board throws out the cheese and takes up savory waffles! Add fruit, muffins, dips, bacon, and even chocolate.
2. International Breakfast
International brunch includes dishes that are more popular outside of the continental United States. These dishes usually have a country of origin that can be traced back to outside the U.S. A few international items to consider are stir-fried breakfast noodles (China), crumpets (United Kingdom), coffee soda bread (Ireland), ham and egg sandwiches (Puerto Rico).
3. Mom's Breakfast
Customers are looking for comfort in a time when the world is a little wonky. Be sure to keep the tried-and-true heavy recipes on your menu. We're talking biscuits and gravy, pancakes, hashbrowns, and bacon.
4. Cold-Pressed Juices
Fresh juice is the perfect pick me up in the morning, and millennials and gen z have been drinking it up. Cold-pressed juice is made with a hydraulic press that uses a large amount of pressure to extract the maximum amount of liquid from fresh fruits and vegetables. There is no addition of heat or oxygen used in this process, which helps to keep the nutrients in the juice. Perfect for the health-conscious bruncher!
5. Mocktails
Cocktails are pretty, but not everyone wants to start their morning off with a shot of vodka. Mocktails are a big hit with Gen Z, and they offer a fun way to start the day without alcohol. Remember, fun mocktails will make their way straight to Instagram!
6. Creation Stations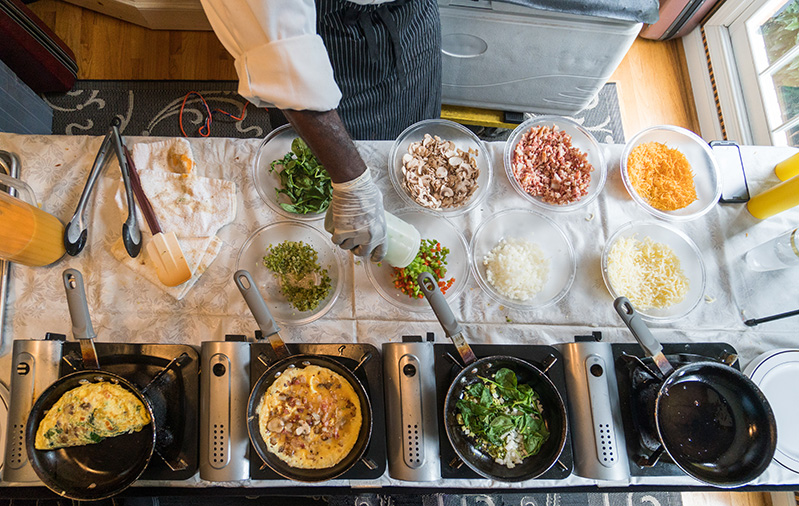 With creation stations, the sky's the limit! Offer an omelet creation station where guests can choose eggs, cheese, and all their toppings! Cook up a quick omelet right in front of their eyes. Creation stations can also be for more lunch-focused brunch items. Offer a unique breakfast/lunch potato bar where guests can choose all their toppings. Consider cheese, bacon, veggies, eggs, and even gravy!
7. Skillets
All-in-one breakfast skillets are a perfect way to get all the breakfast favorites into one dish. Skillets can be easily customized and offer a piping hot item for the cold months.
8. Bread Baskets
A basket of bread isn't just for the dinner table. Freshley baked bread is a great item for the shareable section of every brunch menu! Think sourdough, buckwheat, pumpkin, and more.
These eight brunch trends are sure to make a statement to menus this year, but you can't offer everything under the sun. Pick a direction for your brunch menu and stick with it! Picking two or three specialties from this list is a great place to start. Remember, your customers want the best you have to offer, and you might be doing yourself a disservice if you offer too many selections. Focus on trends that make sense for your establishment.